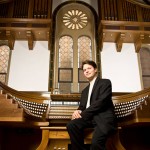 Paul Jacobs performs at the Church of St. Ignatius Loyola in New York City this Wednesday, November 16 at 7:30 PM. Famed as an "evangelist for the organ", Jacobs will play a 20th/21st century program that highlights not only the instrument's traditional grandeur and sublimity, but also its range of emotion and insight.
John Clare spoke to Paul about the program, teaching organists new music plus composers about the organ, and some new works by Mason Bates and Michael Daugherty: mp3 file
An extraordinarily expressive performer and an intensely intelligent musician, Grammy Award-winning organist Paul Jacobs is helping the King of Instruments retake its rightful place in classical music. He is known for his marathon performances, which sometimes last up to 18 hours, of the complete works of J.S. Bach, Messiaen, and other composers, as well as his presentations of new works and core repertoire. Jacobs was invited to join the faculty of the Juilliard School in 2003, and was named chairman of the organ department in 2004, one of the youngest faculty appointees in the school's history. He received Juilliard's prestigious William Schuman Scholar's Chair in 2007. Jacobs has played with numerous orchestras around the country, including the Chicago Symphony Orchestra and the Philadelphia Orchestra. Jacobs' most recent album is a recording of Copland's Organ Symphony with the San Francisco Symphony under the baton of Michael Tilson Thomas.
"Sacred Music in a Sacred Space" at the Church of St. Ignatius Loyola in New York City is committed to presenting the finest sacred choral and organ repertoire spanning over 1,000 years of music history. Known for their artistic excellence, the renowned Choir and Orchestra of St. Ignatius Loyola present exhilarating performances of large-scale choral masterpieces as well as more intimate and reflective settings by lesser-known composers. Internationally-acclaimed organists may also frequently be heard on the Church's magnificent N.P. Mander Pipe Organ, the largest tracker organ in New York City. General admission is $20, with tickets for students and seniors at $15.