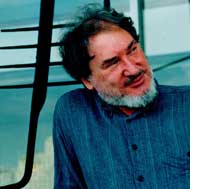 HK Gruber has a cold.  The nasal voice dripping into my telephone earpiece from his home in Vienna sounds more like an early-round contestant on Frog Idol than the celebrated Austrian composer and frequent chansonnier of Frankenstein!!, one of the most unusual and beloved pieces of contemporary music you're likely to encounter.  In the chansonnier role, the performer is required to  sing  in cabaret, lieder and exaggerated operatic styles as well as speak, whisper and shriek at the top of his lungs.  All of which, Gruber does extremely well if you've heard a recording or seen him perform.
Will his congested state affect his upcoming performances of Frankenstein!! with the New York Philharmonic at the Metropolian Museum on December 16 and Symphony Space on December 17, I wondered?  "Not at all," he says. "It might make them more even more interesting. This is not the kind of role that demands much serious singing."
Even via transatlantic cable you can tell that HK Gruber is a man who enjoys his work and clearly doesn't take himself all that seriously.  As a composer, he's been pulling the beards of Schoenberg and the other Gods of the Second Viennese School for well over 40 years now.  Born in Vienna in 1943, Gruber was a member of the Vienna Boys' Choir and at the Vienna Hochschule für Musik studied composition with Erwin Ratz and Gottfried von Einem, theory with Hanns Jelinek and double bass with Ludwig Streicher. From 1961 he played double bass with the ensemble 'die reihe' and from 1969 with the ORF-Symphony Orchestra. Since 1997 he has devoted himself to composing, conducting and performance as chansonnier.
Gruber's heroes were not the atonal gang of the Second Viennese School but  composers like Kurt Weill and Hans Eisler whose music mined popular musical forms like caberet to create theater pieces often set to Bertolt Brecht's subverisve lyrics.  Not that Gruber dislikes gnarlier works by more formal composers.  His music theatre repertoire also includes Schoenberg's Pierrot Lunaire, Maxwell Davies's Eight Songs for a Mad King, and works by Kagel.
The origin of the Frankenstein!!, a pan-demonium for chansonnier and orchestra after children's rhymes by H.C. Artmann dates back  to the Frankenstein Suite of 1971 — a sequence of songs and dances written for the Vienna 'MOB art and tone ART Ensemble', a group of young art and music radicals that included fellow composers Kurt Schwertsik and Otto Zykan which was then active in the field of instrumental theatre. "We had this radical idea that harmony could be pretty nice. Everything didn't have to be atonal.  Of course, they referred to us as those 'Viennese Clowns.'"  He sounds positively pleased.
Gruber was unhappy with the improvisatory structure of the original and felt it required a full orchestra so in 1976/77 he completely recomposed the work in its present form and convinced a promising young conductor named Simon Rattle to take it on.  It was first performed on November 25, 1978 by the Royal Liverpool Philharmonic Orchestra, with Gruber himself as soloist. For the 1979 Berlin Festival he wrote an alternative version for soloist and 12 players. Since then, the two versions have been performed literally hundreds of times and Gruber has recorded them both–as chansonnier with the Camerata Academica Salzburg, led by Franz Welser-Möst for EMI, and as both singer and conductor with the BBC Philharmonic for Chandos
"The title of the volume from which I took the poems of Frankenstein!! – Allerleirausch, neue schöne kinderreime (Noises, noises, all around – lovely new children's rhymes) – sounds naive and innocently cheerful; but H.C. Artmann described the poems as being, among other things, 'covert political statements.' He refused to explain what he meant but we all know from history that  the monsters of political life have always tried to hide their true faces, and all too often succeed in doing so"
Gruber believes one of the reasons for Frankenstein's endurance is that it works one one level for kids and on another for adults.  And who of any age could resist an orchestral work that requires nearly all the orchestra players to double on toys of various kinds. Including a plastic hose; a "bird warbler" (a short plastic or metal pipe on a string, swung like a lasso); and an automobile horn (vintage 1910, the score suggests); a toy car horn; toy clarinets, saxophones, trumpets and piano paper bags  and a set of variously pitched swanee whistles, made of tubing with a recorder mouthpiece and a plunger that allows the player to produce glissandos.
Despite Frankenstein!!'s extraordinary popularity, Gruber is far from a one-hit wonder.  He is particularly noted for his concertos, including Aerial for trumpeter Håkan Hardenberger, which has received over 40 performances since its premiere in 1999, two for violinist Ernst Kovacic, the Cello Concerto written for Yo-Yo Ma and premiered at Tanglewood in 1989, the percussion concerto Rough Music in the repertoire of Evelyn Glennie, and Busking for trumpet, accordion, banjo and string orchestra, premiered by Hardenberger in 2008. His dramatic works include the apocalyptic opera Gomorra staged at the Vienna Volksoper in 1993, Gloria, a musical version of Rudolf Herfurtner's classic pigtale, staged at the 1994 Huddersfield Contemporary Music Festival, Munich Volkstheater, Wien Modern festival, Munster Theater and the Aspen Music Festival, and Der Herr Nordwind to a libretto by HC Artmann, premiered at Zürich Opera in 2005.
He is currently at work on an opera based on Ödön von Horváth's play Tales From the Viennese Woods which as a subject is as far afield as one can get from the gay Strauss waltz from which it takes its name.  A woman named Marianne seeks to escape the brutality of  petit bourgeois life on "a quiet street in Vienna's Eighth District" but is stifled by a conspiracy of her miserable neighbors.  Gruber likens her to a female Wozzeck.
But, for now, there is the durable Frankenstein!! with the New York Philharmonic at the Metropolitan Museum of Art of December 16 and the following night  at Symphony Space.  Also on the program are Fibers, Yarn and Wire by Alexandre Lunsqui and Gran Duo by Magnus Lindberg.  Details are here.
I have three sets of tickets for the December 17 performance at Symphony Space.  Here's your tossup.  Name a famous American composer who has sung the role of chansonnier in Frankenstein!!   Or, name a famous American conductor who has sung the role.  I'll pick the winners out of hat if several people get it right.