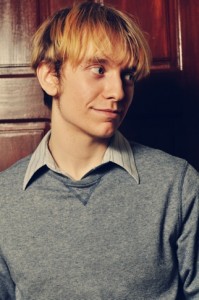 In December 2010, as I was still adjusting to the climate change between Houston, Texas and Ann Arbor, Michigan, I heard a piece that has stuck with me ever since. I wrote about it here, along with two others, and called this particular work, which was performed with video and dance, "the most well executed student production of ANY KIND I have seen." This piece is Music in Pluralism by William Zuckerman, a former University of Michigan composition student who is currently freelancing in New York.
On April 11th at 8 PM, in the Kaufman Center's Merkin Hall, Music and Pluralism comes to life as part of the opening performance of the 2012 Tribeca New Music Festival. The event is also functioning as a CD release party for a recording of Music Pluralism William has worked on for over two years. Moreover, the April 11th concert is the debut of Mr. Zuckerman's hand-picked ensemble, "Symphony Z". I caught up with William and asked him a few questions about Music and Pluralism, Symphony Z and his life as a freelance composer; but, before I get to his eloquent responses, I want to set the stage for what Music in Pluralism has to offer its audience.
In the piece, William handles immense proportions with the deftness far beyond his years, and ties together a diverse cadre of musical influences – everything from Pop Rock to Bach's Passacaglia in C Minor! – with the compelling and cogent force of his artistic vision. David Bloom, the charismatic busybody behind the group Contemporaneous (who share the stage with Symphony Z on April 11), conducts Symphony Z, and is similarly impressed with Music in Pluralism's scope, eclecticism and coherence. He told me in an e-mail, "[i]t's [Music in Pluralism's] coexistence of unity and variety that makes the piece so compelling."
When I got the CD of Music in Pluralism in the mail, I must admit I was a little apprehensive. Part of what moved me so much about its December 2010 performance was how beautifully William and his collaborators mixed the media of dance, music and video of the course of the work's 45-minute duration. Obviously, the audio version lacks these non-musical elements, and I was concerned their profundity may have skewed my initial feelings about William's music. As I will espouse more verbosely in an upcoming review of the Music in Pluralism CD: I am happy to report the piece stands – more effusively, triumphs – on its own.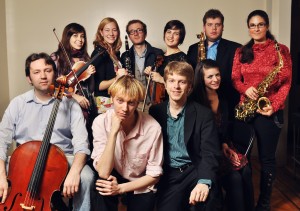 As much as I hope those of you who attend the April 11 concert enjoy William's musical offering, I urge you to also mark the pragmatism and leadership that made the performance happen. As David Bloom – who knows a little something about running a contemporary music ensemble! – put it, William, "demonstrates a rare boldness in founding a group like [Symphony Z]." The group was formed to bring William's music to life, and he sees himself following in the footsteps of his idols: Philip Glass, Steve Reich and the Bang-On-A-Can composers. As William told me, he was particularly influence by an encounter he had with Reich at a music festival, "Reich spoke to a group of young composers…encouraging us to take our best friends in classical music and make them our band mates." With Symphony Z, William has done just that, assembling a talented and diverse group of performers who are ideally suited to realize Music in Pluralism and future Zuckerman originals.
On a personal note, Symphony Z represents William's symbolic response to a challenge I expressed in my review of Music in Pluralism's premiere back in 2010. I wrote that William, and the others responsible for that performance's excellence, "now carry the prideful burden of knowing – in the future – just how incredible the fruits or their creativity can be." Symphony Z's debut on April 11 at Merkin Hall, alongside Contemporaneous, proves that William is dedicated to matching the standard of greatness he set with the first performance of Music in Pluralism.
Now, for more on Symphony Z and Music in Pluralism's origins, I will hand the mic, metaphorically, to William. As you will read, his responses are so elegant and insightful, they are inimitable and beg to be reprinted in full:
GS: How long did it take for "Music in Pluralism" to come together?
WZ: Two and a half years, from the initial writing of the work in August 2009 to the performance and CD Release coming up at Merkin Concert Hall on April 11th.
From August 2009 to July 2010, the actual piece, music for 13 amplified musicians and conductor, was written. The piece was intensively rehearsed and made into a multimedia performance at the University of Michigan, a big show involving about 50 people. Word and video footage caught on around campus a bit, and members of the university later even made a mini-documentary about that performance.   We studio recorded the piece in January 2011. Though my team was preparing to produce that recording quickly thereafter, I was dealing with intense family loss and my primary engineer had just about seven full-time jobs, so we didn't really have time to produce it until Summer of 2011.
Fast forward to December of 2011, the well-established NYC arts curator Preston Stahly of the Tribeca New Music Festival offers to present the piece if I could promise him a great performance. I was delighted to let him know that I could offer him the best damn performance his festival has ever seen! That event, which includes the worldwide release of the Music In Pluralism album, is on April 11th at Merkin Concert Hall. The whole bill opening Preston's festival includes my group Symphony Z as well as a work by Dylan Mattingly performed by Contemporaneous. The conductor for both groups happens to be the same maestro, David Bloom.
GS:  How did your idea for the piece change over time?
WZ: Originally I had intended Music In Pluralism to be a product of pure studio work, never to have a live performance. At the time of that thought, being a classical composer who is a recording artist first and foremost – like Max Richter or Johann Johannsson – really intrigued me. In retrospect, I'm really glad I didn't stick with this notion.
Evan Chambers at the University of Michigan suggested it would be best to create a multimedia performance of the work at the school. I really liked that idea, and so we made it happen. After the exhaustion of coordinating 50 bodies over the course of three months, I never thought the piece would be performed again.
Again, I was happy to be wrong. We're actually playing the piece three times over the next few months, and working out some performances of the work and other new pieces of mine for our first complete Symphony Z season starting in September.
GS:  What does "Music in Pluralism" mean to you?
WZ: The phrase really refers to music that runs the gamut of everything. Pluralism can certainly be about genre if you personally make it out to be that way, it is after all a piece juxtaposing distorted power chords that you would hear in any assortment of hard rock styles with fluid, minimalist melodic violin lines reminiscent of something like Nico Muhly's Honest Music or the second movement of Philip Glass's Violin Concerto. One improvising saxophone section does recall experimental avant-garde styles of John Zorn in a lot of ways, and the opening of the entire piece has a quirky glitch indie thing going on.
But really, I don't think about all that genre crossing stuff when I write music, and I truly don't think most composers do either, even the ones that are famous for it, like the guys in the New Amsterdam scene. They are referred to sometimes as "Synthetists," drawing an image of composers in white coats sitting in a lab synthesizing disparate musical materials to create a super genre-less creature.
It's more like, well hey, I loved this band in high school, I was trained extensively in this other art, and you know, that old album my dad played in the car so much when I was a kid made it's subtle hand into some of the passages too.
Like so many other composers living in our insane world of constant streams of information from dozens of media and musical outlets on a daily basis, I was parented by an amalgamation of so many sounds and styles that I can't really even help the way I write music anymore, so the nomenclature for this music that makes most sense to me is Pluralism. This type of musical information overload derived music is a great and natural trend that I see in so many other young composers today, particularly the ones who are freelancing around Brooklyn, Manhattan, and the west coast. As a pleasant resultant effect, it tends to give disparate audience members something to really identify with in every performance and listen
GS: How has this meaning changed since you've left the University of Michigan and started freelancing in New York?
WZ: Did you catch that amazing Pitchfork article about the Indie-Classical scene last month? It basically talks about the increasing presence of composers in the world of popular styles of music, especially indie rock. One quote comes to mind, where the author Jayson Greene writes that it has become difficult to discern an indie rocker from a composer.
So even though the phrase "Music In Pluralism" hasn't really changed for me in the artistic sense of the phrase, I now have a starting point to explain what my music sounds like to other New York City musicians, regardless of what style they work in. I feel really comfortable telling people my music is "Pluralist," that it's "like Frank Zappa meets Philip Glass and a hundred other things too." People can usually pick it up quick. Saying you're 'pluralist' or 'indie-classical' is actually both an aptly descriptive and simultaneously noncommittal statement if you write music like that.
GS: What are your plans for 'Symphony Z' after its debut at the Tribeca New Music Festival?
WZ: Well for the immediate future, Symphony Z is playing Music In Pluralism again as well as a world premiere at the Bowery Poetry Club on Thursday, May 10th. We're being featured along with this crazy talented horn/electronics artist Anne Guthrie on this brand-new downtown series called Xlassical (http://www.xlassical.com/concerts/). After that we're working out a show with the people at Make Music New York for June 21st somewhere in the city. I don't know where yet, but it's an honor to be a part of the festival, where in all five boroughs of New York City, public spaces suddenly become a ground for live musical performance in an all-day marathon.
In the future I would really like to go non-profit. My girlfriend is an avid dance critic, she tells me that every dance company devoted to performing the creations of one singular artist go non-profit. Same goes for most classical new music organizations, symphonies, festivals, etc. I see it as the best option for creating financial stability in our operation as a new classical music ensemble.
A recording project is always a costly endeavor, but it will be truly special when Symphony Z is able to allocate the appropriate funds and go through with that plan. I also plan to perform and stage some concerts in benefit of ALS (Lou Gehrig's Disease) charity organizations in the future, as many of them helped my mother when she was struggling with the disease. It would feel utterly rewarding to get Symphony Z involved in such a cause.
Garrett Schumann is a composer based in Ann Arbor, Michigan. For more of his 'Observations' on critical issues in the world of contemporary music, visit his website: garrettschumann.com