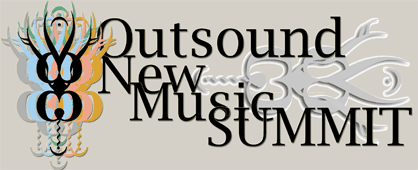 The San Francisco Bay Area's underground music scene will come together this coming July in an annual celebration of its tremendous range of styles, its love of improvisation, and its collective obsession with new and unusual timbres and techniques.  It's the 11th Annual Outsound New Music Summit!  All events will take place at the San Francisco Community Music Center at 544 Capp Street near 20th Street in the Mission District, and tickets can be ordered online from Brown Paper Tickets or purchased at the door.
The ever-popular Touch the Gear Expo kicks off the Summit on Sunday July 15, 7-10 pm.  It's designed especially for anyone who's longed for a closer look at an experimental musician's gear on stage, and for the opportunity to mess with it.  25-30 sound artists will be there to demonstrate everything from oscillators to planks of wood with strings attached and answer questions.  Visitors of all ages have free rein to make sound and experience how these set-ups work, and best of all, it's free.
The second Summit night is also free, and this time the composers take over.  In the Tuesday night Composers' Symposium (July 17, 7-10 pm), John Shiurba, Christina Stanley, Benjamin Ethan Tinker, and Matthew Goodheart will all discuss how they navigate modern compositional techniques, while combining them with improvisation and their own individual forms of experimentation. The public is invited to talk freely with the composers and ask them questions.
Performances begin at 8:00 pm on Wednesday, July 18th with the first of four themed concerts – Sonic Poetry.  This night is curated by Outsound Board members Amar Chaudhary and Robert Anbian, who've recruited three leading poets to collaborate with Bay Area improvising musicians to create new word and sound compositions.  Words are by Ronald Sauer, rAmu Aki, and Carla Harryman, with music by Jacob Felix Heule, Jordan Glenn, Karl Evangelista, Jon Raskin, and Gino Robair.
The Tuesday night Composers' Symposium prepares everyone for the second performance evening on Thursday, July 19th – The Composer's Muse.  Christina Stanley, Matthew Goodheart, and John Shiurba will all premiere new works running the gamut from graphic scores for string quartet, to prepared piano with sonified metal percussion, to a major work for large ensemble celebrating the newspaper.
Thwack, Bome, Chime on Friday night, July 20th, curated by Outsound Board member Pete Martin, will feature the world of percussion in all its coloristic and dynamic glory.  David Douglas will combine percussion instruments with custom-built delays, loopers, samplers, and other effects to create The Walls Are White With Flame, a series of highly spatialized sound sculptures.  In Seems An Eternity, Benjamin Ethan Tinker will assemble three percussion trios of metal and skin percussion to explore the same musical material in canon.  And finally the San Francisco percussion ensemble Falkortet will show off its versatility combining traditional percussion, hand drums, and electronics with influences from Indonesian music, Brazilian music, Jazz, minimalism, and rock.
The final day of the Outsound Summit, July 21st, will be a big one starting with a 2-4 pm Harmolodics workshop led by Dave Bryant.  Dave will share material from his years of Harmolodic Theory performance and study with Ornette Coleman, plus his own compositional and improvisational techniques developed on his own and with his ensembles.  The 8 pm final concert, Fire and Energy, curated by Outsound founder Rent Romus, will feature Dave Bryant with his Trio, along with Jack Wright, the Vinny Golia Sextet, and Tony Passarell's Thin Air Orchestra.