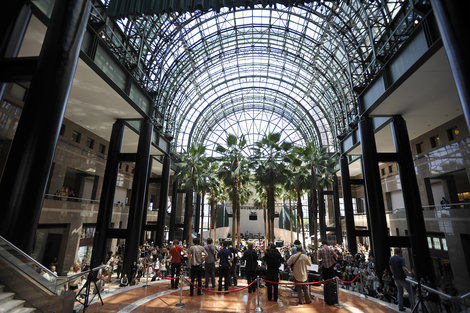 Last year I decided to try my hand at liveblogging the Bang on a Can Marathon concert and had so much fun doing it, I figured I'd come back and do it again. Held in the World Financial Center, the marathon will begin at noon and last till midnight and is FREE, so y'all have plenty of time to get here, find a spot to sit, and enjoy the huge lineup of performers and composers the Marathon is bringing forth today (the day's schedule can be found here).  If you attend, I'll be sitting in the front row corner in the press section – feel free to come up and say howdy!
Since this puppy will probably be a bit lengthy when all is said and done, I'll put the updates below the break. 
11:30. Your intrepid reporter has snatched up prime real estate in the front row – with such a big venue, it's nice to be able to get to hear what's going on with at least a bit less of the echo chamber effect. Not living in New York City but following & interacting with many of these artists online, it's always interesting to meet them for the the first time – or at least just see them walk by with a hint of recognition on their faces.
12:05. Program is just about to start…my press section colleagues include Judah Adashi (from Baltimore's Evolution  Contemporary Music Series) and Thomas Deneuville (of I Care If You Listen) – so fun to introduce folks who haven't met!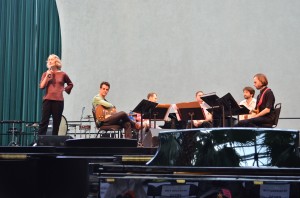 12:17. First up is Dither performing Lois V. Vierk's Go Guitars – written for five electric guitars tuned microtonally, the piece is surprisingly soothing once you get used to the textures and microtonal harmonies. This is my first time getting to hear Dither live and their reputation is well-deserved…I'm not sure this piece would be the first thing a newcomer might expect to hear from five electric guitars, but after a few minutes  it's easy enough to lose yourself in the sound world.
12:24. Alright, so the end of the piece might not have been soothing…muscular, yes…but an awesome work throughout. Not a bad way to start the marathon.
12:35. Composer Daniel Wohl introduced his piece Saint Arc, written for performed by BOAC cellist Ashley Bathgate – who proceeded to alternate ethereal harmonics with bone-crunching power chords. Wohl's done a nice job of incorporating the pre-records of cello [see below] with Ashley's live performance – wish I knew more about the piece, but a concert like this doesn't really allow for detailed program notes or score study. [Update: The work was actually commissioned by the Meet the Composer for the ensemble Transit, with the pre-records being performed by cellist Mariel Roberts. Apologies for the confusion! – RD]
12:45. Now for something I can sink my teeth into – Jeremy Howard Beck's Awakening for the newly-formed trombone quartet, Guidonian Hand. Nice to see some awesome brass ensemble action at BOAC (which is not known as a brass-intensive collective). Placed in the back of the cavernous hall, the quartet brings some mighty chops to a difficult yet extremely touching work by Beck…I've written a lot for the trombone and am always excited to hear really news stuff for the instrument. Trombonists and lovers of all things slide – check this quartet and this piece out!
1:00. BOAC All-Star keyboardist Vicky Chow brings some tasty chops to Evan Ziporyn's piece In Bounds. The piece is a nice romp, but the sound reinforcement of the piano is distracting…most of the instrument is muffled other than a few high notes which ping inside one's head a tad much. I understand the sound issues for a room this size (huge!) is a trick, but especially after the all-acoustic trombone quartet we just heard, the character of the piano is distorted. Would love to hear this acoustic or at least recorded…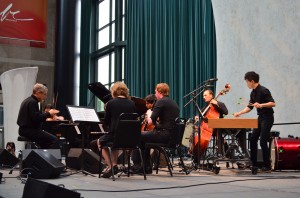 1:20. Jonathan Haas leads the NYU Contemporary Music Ensemble in a tight(!) performance of Ruben Naeff's Bash…Naeff was one of the composer fellows at last year's BOAC Summer Music Festival (most of the younger composers on the program have a connection to BOAC through that festival). After hearing several performances at June in Buffalo of works with a pretty similar instrumentation (Pierrot+perc+vla+cb), it's amazing how flexible this mixed ensemble instrumentation can be in the hands of different composers.
1:32. Shout out to Thomas Deneuville for any photos you see here – he's nicely sharing his camera's SD card with me…thanks!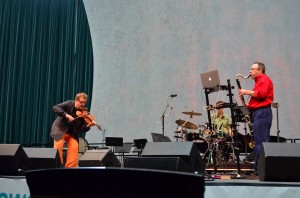 1:40. It wouldn't be a BOAC Marathon without a little Todd Reynolds, and he's here this time with bass clarinetist/composer Michael Lowenstern performing two of Lowenstern's works. First up is Crossroads, a solo work for violin and electronics (which include audio of Robert Johnson singing) – this is groove-based fiddle blues with all the fat left on…just the way I like it. Lowenstern grabbed his bass clarinet and invited BOAC All-Star David Cossin to lay down some live drumset for his second work Boot. I've heard a lot of jazzers play some pretty awesome bass clarinet, but Lowenstern is in a class all himself on the instrument. We brought him to SUNY Fredonia last year as a guest performer, but I had to miss the concert for one of my own performances on the east coast, so this was a special treat to finally get to hear him live.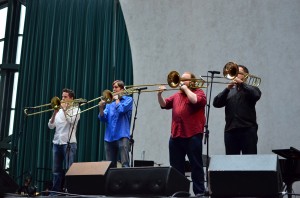 2:00. The Guidonian Hand returns…this time to perform Eve Beglarian's In and Out of the Game. This may be my first sampling of trombone quartet and electronics, and it's an intriguing combination – the trombones slowly enter with a chorale texture softly underneath the chattering electronics, gradually overtaking the electronics in a nice, over-arching motion by Beglarian. I'm sure a good portion of the audience does not realize that the quartet is playing this substantial work by memory…well-played, gentlemen!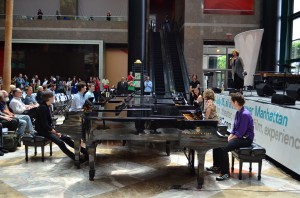 2:15. It's not often that one gets to see six master pianists performing one work, but today we'll get to hear two works by such an ensemble. Going by the moniker "Grand Band", this piano sextet is performing Julia Wolfe's my lips from speaking – a deconstruction of the opening piano lick from Aretha Franklin's Think. To see this array of some of NYC's best pianists (including Chow, Lisa Moore, and Blair McMillen) is a unique experience to say the least. If more composers and pianists heard Wolfe's work (which has been recorded), there may be a market for Piano – 12 hands music after all…
2:35. 2 & 1/2 hours into the marathon…enter the ukelele & spoons! The End, a cool piece from Baltimore-based composer Ruby Fulton featured Melissa Hughes, soprano, Taylor Levine, ukelele, and Phillippa Thompson, spoons. Fulton mentioned that this piece was inspired by the Beatles song of the same name…my colleague Judah Adashi mentioned how many works are either inspired by or incorporate pre-existing popular works today.
3:00. The Bang on a Can All Stars took to the stage to perform two new works by two young composers – the first of which is entitled Nibiru, composed by Polish composer Marcin Stanczyk. An esoteric soundscape that had each instrument playing completely different ideas, but
conducted so that they happened together, if that makes any sense. Having the players vocalize into microphones while inhaling was one of several unique sonic experiments Stanczyk attempted – and to good effect. While the entire work seemed to be in a constant pulse (from the looks of the performers conducting on stage, the composer did a nice job of contrasting "free" sections with groove-based ideas.
3:10. Alright, I lied – the second work isn't by a young composer…it's by Thurston Moore (he of Sonic Youth). Stroking Piece #1 is, like several works heard today, one that slowly draws a single shape from the ground up. At least 5-6 minutes of a single chord growing in breadth and volume to a thundering rock groove (on a IV chord, natch), which after riding high for a while, shatters into splintered motives that coalesce around the original repeated chord.
3:35. A nice balance today of heterogenous and homogenous ensembles…after the mixed BOAC All-Stars, next up is the Heavy Hands contrabass quartet (with Gregg Austin, Greg Chudzick, Lisa Dowling, and Brian Ellingsen). Performing one of Gregg Austin's compositions, A Humble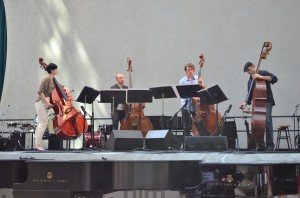 Tribute to Guanguancó, the quartet navigated his work extremely well – the piece shows much of what four contrabasses can do, including percussive effects and four-part pizzicato (which is damn hard to pull off). Nice piece by Austin and great performance by the quartet.
3:55. Martin Bresnick, arguably one of the most influential teachers of composition over the past 30 years, introduced his work Prayers Remain Forever before the duo of Ashley Bathgate and Lisa Moore came to the stage under the auspices of their ensemble name,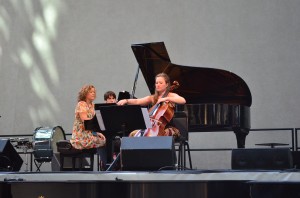 Twosense. Inspired by the poem Gods Come and Go, Prayers Remain Forever by the Israeli poet Yehuda Amichai, Bresnick's work is interesting on many levels…what really strikes me about this piece is that it is very much a duo for cello and piano and not a solo with accompaniment. One hopes this makes it into the repertoire with some haste…
4:20. Nice to finally see Newspeak live…they're performing several times today, and this first piece kicks off (literally) with a goofy, grungy work by Oscar Bettison titled Breaking & Entering (with Aggravated Assault). This is the third different ensemble I've seen Taylor Levine play in today…he's only one of several performers today who are known to play in a multitude of groups, and today's marathon demonstrates how intertwined the new music scene is today. Bettison's piece does what it says it does…and that's a very good thing.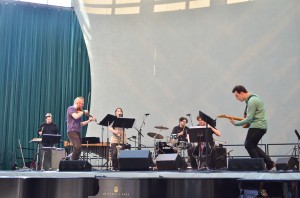 4:30. If you really want to point to a perfect example of a solid, solid work transcending the labels "classical" and "rock"…David T. Little's Sweet Light Crude foots the bill. Melissa Hughes owns this piece cold – no one else can be imagined performing it like that – and the rest of the ensemble is tight as hell. Special kudos to Eileen Mack for making the inclusion of a clarinet/bass clarinet in this electric/rock ensemble seem obvious.
4:50. Just passed the 6-hour mark since I found my seat here…
5:00. The Michael Gordon Band…made up of BOAC All-Stars Ziporyn, Cossin, and Stewart along with Todd Reynolds on violin, Caleb Burhans on viola and Gordon on keyboards…took Gordon's work Thou Shalt/Thou Shalt Not to task very effectively. Gordon's material doesn't change much, but just enough to feel where he's going – but it's really the energy and precision of ensemble that takes the piece to another level. It's a helluva lot of fun to watch these guys really dig into the work, and it's much better for it.
5:51. Alright…I haven't fallen asleep or disappeared – I just needed to get up & walk around, and it seemed to be appropriate for the fourth "set" of the marathon, which brought Pauline Oliveros and her Deep Listening Band to the stage. Oliveros described a performance experience the ensemble had in a large cistern and was so taken with it that they digitally re-engineered the aural sense of performing in the cistern. The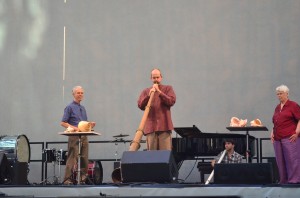 following three pieces were all performed with this sound format in the speakers, which gave the performances a natural yet otherworldly quality. Quasi Infinity was composed and performed by soprano saxophonist Jonas Braasch and allowed the audience to forget all the thrash/punk/sheets-of-sound that they had experienced earlier; the performance reminded me of albums by flutist Paul Horn where he recorded in large reverberant chambers throughout the world. Brian Pertl composed Land of Snows, which incorporated didgeridoos, huge conch shells and a Dung Chen (a long brass Alphorn-like Tibetan trumpet) – the piece seemed like it could have been performed in a civilization long since gone. The final performance was by Oliveros and two of her colleagues as they used throat-singing techniques along with long tones to create their own sound world – the piece was entitled From Now On and as they faded to silence the entire room waited a good 20 seconds before erupting in the loudest ovation of the day.
6:20 As much as I'm impressed that the stage crew is moving things along nicely, the marathon is about 30 minutes ahead of schedule…not a horrible thing, mind you, but if folks are trying to time their arrivals to hear specific performances, they may be disappointed…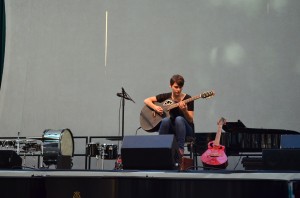 6:25. Kaki King just got done performing four works of hers on acoustic guitars (both six- and twelve-string)…they didn't have titles, but they were really quite impressive – some of the best fingerpicking I've seen in a while. Between her and Oliveros the program is taking the audience on an enjoyable ride throughout this marathon.
6:48. The BOAC All-Stars bring more eclecticism to the stage, starting with bassist Robert Black performing a solo work by Francois Rabbath (a bit random, to be sure, but fun nonetheless). They followed this with three works written for them through their Peoples Commissioning Project by David Longstreth (of the Dirty Projectors) – Instructional Video, Breakfast at J&M, and Matt Damon. All three were fun little vignettes that still had plenty of meat on their bones. Finishing the triumvirate was four arrangements of piano studies by Colin Nancarrow – clarinetist Evan Ziporyn mentioned how much they were taken with Nancarrow's "tunes" as they were his rhythms. The ensemble then proceeded to jump right into a piece that had some playing in 5 while the rest in 4 with the same barlines – classic Nancarrow and expertly executed by the All-Stars. Usually I'm not a great fan of drumset unless it's really needed (and unless it's played really well) and this set both needed it and couldn't have had a better performer. While I'm very taken with all four arrangements, I'll agree with my colleague Galen Brown's assessment that the venue is a double-edged sword – it works really well for things like Oliveros' set, but makes it nigh near impossible to really hear the details on these intricate Nancarrow works.
7:30. Alvin Lucier. Sitting on the stage. Performing his own I am sitting in a room. Awesome.
7:45. Good God, this is intense…
7:51. See for yourself (25 min. in)
8:07. And now back to our regularly scheduled BOAC All Stars program…currently performing a spritely work by Akiko Ushijima, a Japanese composer they met in Amsterdam. Nice use of unison writing throughout the ensemble.
8:19. BOAC All-Stars performing David Lang's Sunray, a present for his father on Father's Day (Mr. Lang is in the room). Interesting to hear other composers write for this ensemble, then to hear Lang write for it – you can tell who's been living with the sound for 20 years.
8:21. It's been almost nine hours since I grabbed my chair – and the posts are getting shorter. Hang in there…
8:46. Pianist/composer Kris Davis has written a new work for six pianos (seems to be a fad these days)…her sextet Massive Thread includes jazz pianists Vijay Iyer and Craig Taborn….I can barely see the score over Taborn's shoulder, but can't make out how much of this is written and how much is improvised. Whatever the combination, it holds a thin balance between cacophony and natural massed polyphony. What's interesting is how consistent the overall texture is – if were completely improvised, there'd be gaps and spaces, but the myriad lines bouncing back & forth seem  to be controlled enough that the overall shape is measured and direct. about 7 min. in, there is a a sudden shift from massed freedom to a repeating six-note ostinato in Davis' piano that spreads throughout the ensemble into massed chords – still masses of sound, but controlled rhythms. Finally it dissolves into…into six dissolved pianos…six big piano puddles…nope, I lied…it's similar to the beginning, but softer and higher. Fading out…and the crowd goes wild! Cool piece!
9:21. Maya Beiser performing a work for solo cello and a chorus of pre-recorded cellos…expanding to 20 different parts – with a film to boot! Such is the work Just Ancient Loops by Michael Harrison, whose interest in just intonation was evident last year with his work for cello, keyboard and children's choir. His collaborations with Beiser are impressive – he really knows what works for her and she knows how to interpret his works well. The addition of film (created by Bill Morrison) is a good one, especially in this venue, since the image of the well-lit Beiser siting in front of a 40-foot black-and-white video montage is striking as well as the musical/filmic relationships. A mature use of loops in this piece creates a nice homogenous blend throughout – again, the contrast between mixed and blended timbres in this program.
10:02. Steve Reich's Six Pianos. Performed by six of the top pianists in NYC. Awesome.
10:08. This work will have a solo version recording out in 3-4 months. So sayeth Steve Reich. This concludes the "Breaking News" portion of the evening.
10:25. Security Guard #Fail
10:44. I'm not saying there's any difference between Steve Reich and DJ Emvee (currently playing his BOAC remix). Nope. The audience is several hundred lighter, however…
11:05. Bringing this very successful marathon to a close is the percussion ensemble Talujon performing Gerard Grisey's le Noir de l'Etoile. Six percussionists, each with large multi setups surround the audience. The piece itself is marred only by the incessant hum of the projector (that's showing abstract images on the screen). The room allows for there to be a great amount of space between the percussionists, which helps with the spatial aspect of the piece.
I may have more details to fill in, but hopefully y'all have enjoyed following this Noon-to-Midnight Marathon Liveblog. Thanks to Christina Jensen for giving me a press pass and a good spot to type. Until next year…