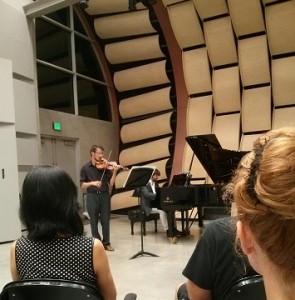 As part of a two-week long concert series of experimental music, For John Cage (1982) by Morton Feldman was heard at The Wild Beast performance space on the campus of California Institute of the Arts in Valencia, CA on August 14. Dante Boon was at the piano and Andrew McIntosh played violin in the concert titled, suitably, 'Bon Amis'.
John Cage and Morton Feldman both have historical connections to Cal Arts: Cage received an Honorary Doctorate of Performing Arts from the Institute in 1986, and Morton Feldman was composer-in-residence that same year. The Wild Beast was named in honor of Feldman who, according to the campus website, "likened the ineffable creative energy in art to a wild beast." The Wild Beast is an airy but not overly large space with good acoustics that were well-suited to this performance.
For John Cage is a quiet piece for piano and violin played at very low dynamic levels, yet all of the nuances could be plainly heard. Typically the piano plays a few notes or a soft chord and the violin answers, followed by a brief pause. The phrases are sometimes repeated, or the violin sounds first or they may play together – but the call-answer pattern predominates. For me the sequence was most effective when the piano made a declarative statement and the violin softly reflected off the slightly harder tones of the keyboard. This seemed to heighten nuances in the violin, especially in the quietest passages.
Dante Boon provided a solid foundation throughout, never tentative with the many piano entrances but always with the delicate touch that this piece requires. His sensitive playing set the stage for the violin and here Andrew McIntosh displayed amazing control of pitch and intonation, even when the sounds coming from his instrument were barely above a whisper.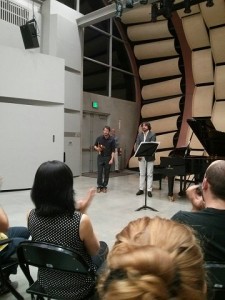 Despite the fragmented nature of the piece – and its 75 minute length – it was never boring. This was due largely to the quality of the playing but also the fact that it was performed live in a space where the finest details were audible. The soft dynamics invite the listener to concentrate on each passage played and to create the context for it. This is challenging listening but those in attendance were engaged throughout – and there were happily no coughing attacks or cell phone outbursts to break the spell. This was an excellent performance of one of the landmarks of late 20th century experimental music.
The concert series concludes with Es geht weiter, music by Jason Brogan, Dante Boon, Taylan Susam, Sam Sfirri, Daniel Brandes, Stefan Thut and Johnny Chang at The Wild Beast, Cal Arts, Valencia, Saturday, August 17 at 5 pm. Admission free.