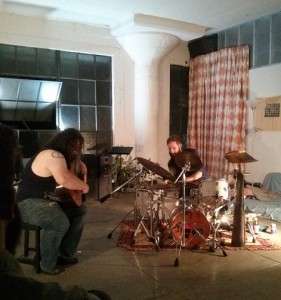 Ted Byrnes, Nicholas Deyoe and John Wiese joined forces on Tuesday, December 17, 2013 for an evening of improvisational music featuring percussion with guitar and electronics in a concert titled 2 Duos of Varying Volumes But Similar Intensities. About 25 people, a near-capacity crowd for the renovated loft space that is the Wulf, heard three different offerings in two duo configurations that included a wide variety of extended techniques.
Ted Byrnes is a drummer/percussionist living in Los Angeles via the Berklee College of Music in Boston and who is working now primarily in free improvisation, electro-acoustic music and noise. Nicholas Deyoe is a composer and has also conducted the La Jolla Symphony as well as Red Fish Blue Fish. John Wiese is a Los Angeles-based freelance musician and has toured extensively in Europe and Australia.
The first piece – Duo 2 – had Ted Byrnes stationed behind a more-or-less familiar drum kit, but with a number of unusual found objects within arm's reach. Nicholas Deyoe accompanied on an acoustical guitar and began the piece with a loud shout. This was followed quickly by the application of palm fronds on the tom-tom and this produced a soft, pleasantly organic sound. Guitar chords joined in as well as a variety of slaps, plinks and more exotic sounds that were conjured by an animated Nicholas Deyoe.
As the piece progressed Ted worked through a series of objects directly on the drum head – pot lids, sheet metal plates, a hollow metal cymbal stand – these were struck with drum sticks, brushes, and even the performer's knuckles. A cymbal was removed and placed on the snare drum head and played with brushes, producing a wonderfully complex sound. Dice were heard knocking within cupped hands. Even with all the movement that was required to sustain the sound, you could see the precision with which each object was obtained, incorporated in the percussive mix and then returned, with the flow of energy never lessening.  The result of all this was a sort of rolling sea that came in waves of varying dynamics and intensity. Less a rhythm than a wash of percussive sounds, some familiar and some almost industrial in character, but all suffused with great energy even in the quieter moments.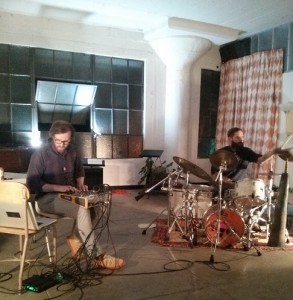 The second piece – Duo 1 – combined Ted Byrnes with John Wiese on electronics. John was equipped with a sound board that allowed him to mix about a dozen different sounds that originated from a laptop computer. An amplifier and a series of speakers completed this set up. The electronic sounds added a solid foundation against which the sharp sounds of the percussion could offer some interesting contrast. Long booming sounds, screeches and squeals provided a continuous electronic texture while the ever-energetic Ted provided a varied mix of rapid percussion. To my ear the drumming seemed just a bit more conventional and offered a point of reference to the sometimes alien sounds coming from the speakers. But overall the balance with the electronics seemed just right and very effective. At times this piece was full of roar and commotion, but never seemed stressed or distorted.  Duo 1 concluded nicely with disarmingly warm tones from the electronics that faded to silence.
The third piece of the evening had Nicholas Deyoe on guitar rejoining Ted Byrnes in a final duo. There were some amazingly high sounds produced from a single guitar string combined with the usual activity in the percussion that at times seemed an virtual avalanche of sound. The drumming again sounded a bit more traditional and the dynamics in this piece were more noticeable. Although similar in texture to the first piece, this last duo surged in and out a bit more regularly – like watching the whitecaps on a choppy sea.
The percussion techniques used in this performance are interesting because all the extra found objects could have just as easily been hung separately to be struck individually, but Ted Byrnes has chosen to make them integral to the drum kit and applied them together. This produces many unusual sounds to be sure, but also mixes the familiar and the unfamiliar in a more calculated and artistic way. These pieces pushed the limits of rhythm, texture and density in new directions and invite the listener to rethink previously implicit musical boundaries.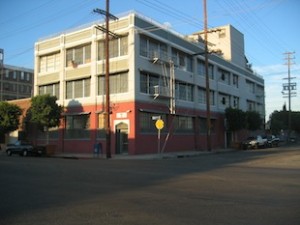 The Wulf will present another  concert of duo improvisational music on January 29, 2014 at 8:00 PM that will feature Bonnie Jones and Andrea Neumann, whose work " is a rich contradiction of textures and timbres with each artist committed to both defining and expanding the definitions of their music through long-term collaboration."