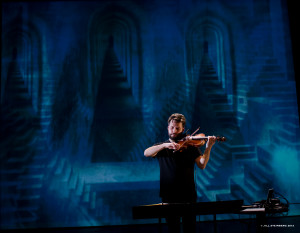 This coming February, composer Paola Prestini and I will present the world premiere of House of Solitude, an installation concerto, at Krannert Center in Champaign-Urbana. We have been working together on the piece since 2010 (Paola as composer and me as performer); this premiere seemed like a good moment to share with the community a short article about how the piece came together.
Our collaboration began in 2010, when I asked Paola to contribute a piece to my Journaling series (an ongoing series of concerts focusing on contemporary music for violin and electronics). At the time, Paola was finishing up some work at the Sundance Institute Film Music program, and she had assembled a collection of short field recordings that she was calling "the Sundance stems." These included a recording of a man singing, various sounds of nature, and horses running. Using these samples as a point of departure, Paola created a wonderfully lyrical and expressive piece for violin, pre recorded tracks, and a motion sensing violin bow called the K-Bow. Invented by Keith MacMillan, the K-Bow is a blue-tooth enhanced violin bow that enables the performer to use physical motions to manipulate sounds in real time. It was brand new technology for Paola and me, and we had fun figuring out how we were going to use it in the piece.
That initial segment, which ended up as the last section of the completed piece, was presented at the Stone in August 2010, as part of Journaling. In the audience that evening were to visual artists, both friends of Paola: Carmen Kordas and Erika Harrsch. Both Carmen and Erika expressed interest in creating video to go with Paola's music. Around this time, Paola had been considering developing it into a larger, two-part piece called Labyrinth, so she decided to ask each of the artists to contribute video : Carmen to the first part, and Erika to the second. She decided to make the first section a concerto for violin and electronics (House of Solitude), and the second section a concerto for cello and electronics (Room No. 35).
The next stage of evolution happened in March of 2011, when we presented 20 minutes of the piece at Cal State Fullerton. In preparation for that show, we went into the recording studio and really fleshed out the backing tracks, syncing the music to the first 20 minutes of Carmen's gorgeous video. Paola added more field recordings to the sonic environment: the sound of an EKG machine, more nature sounds, my own voice, and some recordings of everyday objects. She began to call the piece an "installation concerto," branding a new hybrid genre that combined aspects of installation art with aspects of the classical concerto. Over the next two seasons we presented this version of the piece in New York (River to River Festival), Washington, DC (The Atlas Performing Arts Center), Zimbabwe (Harare International Festival of the Arts), and Maine (Bay Chamber Concerts). By the end of this run of performances, Paola and Carmen had added 10 minutes of music and video (making the duration 30 minutes), and I refined my improvisations and honed my use of the K-Bow.
When she first started the piece, Paola had recently read Octavio Paz's famous work, The Labyrinth of Solitude. Her title for the two concertos, Labyrinth, was a allusion to the existential labyrinth of which Paz writes. Together, Paola and I contemplated how the "labyrinth" of an individual's inner world manifests itself externally in acts of creativity and ways of relating to others. We were beginning to think of the piece as a concerto for violin and "multiple selves," a concept that Paola and I agreed was deeply connected to the image of an inner labyrinth. I enjoyed how the idea of multiple selves resonated with the object relations branch of psychoanalytic theory, an area I was beginning to explore. For me, the piece became not only an exploration of the idea of multiple selves, but also a musical depiction of the struggle to bring together disparate internalized figures and fragments of the self into a cohesive whole. The drama became the search for clarity through the realization of personal truth.
This coming performance at Krannert Center on February 1 will be the world premiere of the complete piece. For this show we will be joined by some illustrious new collaborators, including director Michael McQuilken, videographer Brad Peterson, lighting designer Yi Zhao, sound designer Dave Cook, EDREAM, and Michael Winger. The second part of the entire work, Room No. 35, will be presented, featuring Maya Beiser on LED cello (conceived by Erika Harrsch and Maya Beiser, created by Erika Harrsch), and video by Erika Harrsch. Room No. 35 is based on the writing of Anais Nin, and approaches the concept of multiple selves from a different angle.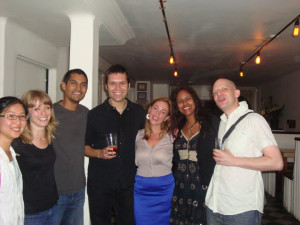 Labyrinth brings together two "installation concertos," two different performers who use technology, two technological innovations (the K-Bow and the LED cello), two visual artists, and two different stories that both deal with the concept of the divided self, into one evening length multimedia piece.