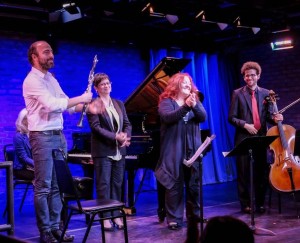 We like to think that chamber music is an acquired taste but what is chamber music but music played in a room by a few people for a few people or for thousands? So it's not just the Mexico- founded Cuarteto Latinoamerico, or the American Patricia Barber and her band, or the American quartet Brooklyn Rider, and the Australian Dead Can Dance, or the late lamented Beatles, because all of these groups are playing chamber music. Syrian clarinetist-composer Kinan Azmeh was the headliner on the last installment of Lenore Davis' St Urban's poets cum musicians series at Subculture's handsome downstairs room on Bleecker in New York's West Village. And the music, by four completely different composers from two different continents, seemed to address the hidden source of sound. We like to think we're in the light but we're mostly in the dark, even underground.
Program director/ pianist Lenore Davis noted in her opening remarks that Robert Schumann's Five Pieces in Folk Style for Cello and Piano, Op.102 wasn't the usual German romantic Sturm und Drang, but something fun. And what emerged was a charming, entertaining, and very solid performance by Davis and cellist Nicholas Canellakis of a minor piece by a major composer, though I kept thinking — did Brahms steal from Schumann, and was that why Schumann walked into the Rhine or was it all the sour and inveterate Clara Schumann's doing?  My late composer friend Virgil Thomson used to say that "the dead do not rest easy in Vienna" but could that also include northern Germany?
Aram Khachaturian's three – movement 1932 Trio for Clarinet, Violin and Piano didn't add up to much either, though it was vividly played by Azmeh, violinist Yevgeny Kutik, and Davis. But the real star of the piece was Kutik with his strenuous but effortlessly dispatched virtuoso fiddling, with Azmeh providing careful but decidedly in the background wind support.
Things improved immeasurably with three songs from Arabic Lieder   by the renowned Syrian composer-pianist Gaswan Zerikly ( b.1954 — )  whom I had never heard of, but Azmeh's soprano Dima Orsho, with whom he has worked for fifteen years in their chamber group Hewar (Arabic for "dialogue ") sang Zerliky's settings of one poem by Abu Khalil al-Qabbani, Badr Shakir al -Sayyab, and the late great Palestinian poet Mahmoud Darwish. Zerikly is Europeanized but clearly his own man, and his rapprochement with the Western art song tradition proved that there was new wine in those old European bottles. Still, do we have to model our art on "the Old World " to feel validated?  But Zerikly bridged the European – non-Western "divide" with musical settings which respected and enlarged both supposedly opposed traditions. Formal metrical demands were happily married with melodic gestures inherently '"non-Western" but obviously shared with "ours" because the audience was clearly moved despite the fact that Orsho sang everything in Arabic, with great expressivity and consummate taste. Sound is emotion and emotion sound, and this superlative singer heightened the attention level in the room to an extraordinary degree.
Azmeh's Songs for Days to Come (2015), which St Urban commissioned, and which received its world premiere here, was the centerpiece of the concert, and though it came last, one could hardly imagine a more beautiful or moving end to a program. The piece, for the same players — Orsho, Azmeh, Canellakis, and Davis — showcased Azmeh's extraordinary skill at embedding words in music so that the words seemed to come out of the instrumental music and vice versa. It was Azmeh's first try at making songs from words, all of his other "settings" for Orsho being deeply emotive yet "only" vocalese, Yet the five songs, all in classical Arabic, but the last, which Azmeh chose from five Syrian poets, including his uncle Hazem al-Azmeh, were, he notes. intended to "reflect and document the contrasting feelings a Syrian might have experienced in the last four years " before many countries and their proxy mercenaries colluded and launched a war to erase his people from their land and their history. Azmeh's settings are direct but very evocative, and his clarinet sound seemed to emerge from "almost " silence, and end in "almost" silence, like but not quite like Mahler's  Das Lied von der Erde  (1907-09 ) which links a Western European with a non- Western Chinese. And he preceded his settings with recordings of all five poets reading their words, beautifully, as stand alone things.The other participants in this very touching piece gave it their all, and the audience responded with steady and more than welcoming applause.