This past Saturday night, Kobacker Hall, on the campus of Bowling Green State University, came alive with the sounds of Jennifer Higdon's compositions for wind ensemble and orchestra. The culminating performance of Bowling Green's annual New Music festival, Saturday's concert marked a rare opportunity to hear a program of large ensemble music focused on the works of a single living composer, and both Higdon, and her compositional craft, were aglow in the spotlight. As the featured guest composer of this, the 36th annual new music festival at BGSU, Higdon shared herself, and her music, with students are audiences in numerous performances, per-concert talks, and lectures. In a conversation during intermission, Kurt Doles, who directed the festival from his post as head of the MidAmerican Center for Contemporary Music, praised Higdon for her warmth and generosity as a guest, noting, "she has been a wonderful presence all week long."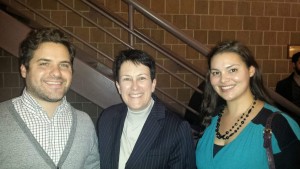 The concert's program featured three works of Higdon's, the flashy wind ensemble work Fanfare Ritmico, the virtuosic Oboe Concerto, and the absolutely masterful Violin Concerto, which earned Higdon the Pulitzer Prize five years ago. Each piece was terrific, thanks to the talents and hard work of Bowling Green's students, faculty soloists Nermis Mieses (oboe) and Caroline Chin (violin), as well as wind ensemble director Bruce Moss and orchestra director Emily Freeman Brown. Chin, a new addition to BGSU's school of music, also performed Carolina Heredia's Dujarte Caer, for violin and and electronics, earlier in the afternoon, and could not have been more impressed with the quality of the festival's other concerts. "All the performances were excellent," Chin shared with me after the concert, in the midst of a stream of well-deserved congratulations from other audience members and players.
As much as Chin was the star of the evening (after all, she delivered a thrilling and dominant performance), her tour-de-force was made possible by the superlative quality of Higdon's Violin Concerto. For me, the work hits every mark of a great concerto. The first movement is stunning and almost coy with the way in introduces the listener to Higdon's design for the solo violin part, a destiny that unfolds in the most brilliant way in the successive movements. Empowered by the composer's genius, Higdon's Violin Concerto blends vibrant imagination, along the lines Jacob Druckman's Viola Concerto, with stately grandeur, in the manner of Barber's Violin Concerto, into a work that seems both modern and timeless. At a time when so many high-profile American composers are writing violin concerti, or works that pit violin soloists against a large ensemble, Higdon's Violin Concerto represents, in my estimation, the undoubted gold standard (Kristin Kuster's Two Jades, for violin and symphony band, is also extraordinary, though smaller in scale).
When Jennifer Higdon ascended to the stage to receive her standing ovation, and congratulate violinist Caroline Chin and conductor Emily Freeman Brown on a truly spectacular performance, it became clear to me that I had witnessed a very special event. Higdon's music and the splendor of Bowling Green's New Music Festival are both treasures in the landscape of American contemporary music. The University, Kurt Doles, and all the students and faculty members who made this year's festival possible, all deserve to be heralded for their personal and institutional commitment to  this important tradition.