POSTPONED DUE TO WEATHER!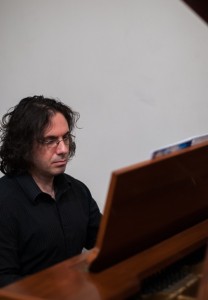 Thanks to Joshua Banks Mailman for this post about Augustus Arnone's Babbitt recitals. 
Augustus Arnone performs Milton Babbitt's Time Series and other solo piano works at Spectrum, Sunday January 24, at 2pm
This year marks the centenary of the legendary composer Milton Babbitt (1916-2011). To my ears, his extensive body of piano works especially channels his singular charm as a raconteur. Over the decades a number of pianists have championed some of Babbitt's major  piano works, for instance Robert Helps and Robert Miller performing and recording his Partitions (1957) and Post-Partitions (1966) in early days and much more recently Marilyn Nonken did as much with Allegro Penseroso (1999). Babbitt's Reflections for piano and synthesized tape (1975) has been performed by the likes of Anthony de Mare, Martin Goldray, Aleck Karis, and Robert Taub, the latter two of whom also recorded it. Robert Taub and Martin Goldray recorded and released full-length CDs. Alan Feinberg too presented stellar renditions of Minute Waltz (1977), Partitions (1957), It Takes Twelve to Tango (1984), Playing for Time (1979), and About Time (1982) on a 1988 CRI CD.
Yet only one pianist has earned the distinction of presenting the entire oeuvre of Babbitt's solo piano works in concert. And that is Augustus Arnone, who performed the entire set, spread over two concerts, in 2007. In honor of the Babbitt centenary, Arnone is performing the entire set again (this time spread of three concerts) at Spectrum on Ludlow in NYC. The largest work on the program is Canonical Form (1983) which I've heard several Babbitt aficionados recently describe as their "favorite" and "most beautiful" Babbitt composition. The most recent work is The Old Order Changeth (1998). The concert also presents a rare opportunity to hear the entire 'The Time Series' (Playing For Time (1977), About Time (1982), Overtime (1987)), the last part of which has never been released on a commercial recording.
Arnone's performance begins at 3pm, but prior to that, at 2pm, will be an interview-discussion between me and the composer-theorist Robert Morris, who, in parallel with the latter half of Babbitt's career, developed his own independent approach to serial and post-serial composition. Morris has also been an avid listener of and writer on Babbitt's compositions over several decades. The event should be worth the trek through any rain, sleet, and slush.
Augustus Arnone: The Complete Piano Works Of Milton Babbitt, Concert II
Sunday Jan 24, at 3pm (pre-concert discussion at 2pm) $20, $15 (Students/Seniors).
Spectrum, 121 Ludlow St, NYC.
Those interested in still more Babbitt can check out the Focus Festival at Juilliard, which begins tonight and goes through next Friday. I'll be writing about that more next week.