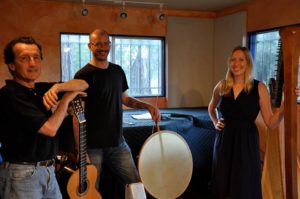 On Wednesday, September 21, 2016 the innovative Soundwaves concert series continued at the Santa Monica Public Library featuring the music of Lou Harrison and John Luther Adams as performed by the group Just Strings. Alison Bjorkedal, John Schneider and T.J. Troy comprise Just Strings, who specialize in performing music in just intonation. Ms. Bjorkedal brought two harps – one orchestra-sized instrument tuned in Pythagorean temperament and a second smaller Celtic harp also tuned in JI.  John Schneider came equipped with two guitars and there were an array of percussion items surrounding T.J. Troy.
The concert opened with Yup'ik Dances (1995), a collection of short pieces by John Luther Adams. An active environmentalist, Adams has spent most of his composing career in Alaska, inspired by both the landscape and the people there. Although not precise transcriptions of Native indigenous music, Yup'ik Dances is informed by their sturdy directness. He writes : "These little pieces are part of a larger cycle based on traditional dance songs of Alaska's indigenous peoples. It is my hope that they convey something of my deep admiration for Native cultures, as well as my love of the forests, rivers, lakes and mountains of this place." Invitation to the Dance begins Yup'ik Dances and a light percussive drumming lays down a solid beat. The harp dominates with an appealingly exotic, but never alien melody. Overall, this has a warm and welcoming feel. Jump Rope Song followed, and this featured a simple back-and-forth between the guitar and harp, trading playful passages. The percussion was tacet, but the rhythm was ably carried along in the strings.
Shaman's Moon Song was next, and this had a more purposeful feel as the drumming rejoined the ensemble. A dramatic melody from the strings added to the sense of importance as the piece proceeded, leading up to a nicely executed ending. Juggling Song featured the guitar and harp interweaving rapid phrases and rhythmic patterns so that even without the percussion there was a convincing sense of balance and motion. Yup'ik Dances concluded with It Circles Me and this had repeating, syncopated harp passages offset with a strong guitar counterpoint in the lower registers that was very effective. There was a slightly vexing feel to this, even as the light drumming contributed a reassuringly regular beat to the texture. Yup'ik Dances is an artful sketch of indigenous Alaskan music, elegant in its simplicity and yet realized with fullness by the players.
Harp Suite #1, by Lou Harrison followed and this is a collection of miniatures composed from 1964 to 1972. Jahla (1972) was first and this opened with finger cymbals and a lightly tapped tambourine. The harp joined with a quick rhythmic figure that established a nice groove as the piece progressed. The intricate development in the melody gave this a light, airy feel. Music for Bill & Me (1967) followed and for this Ms. Bjorkedal took up the smaller harp. A slow, deliberate melody arose that evoked a quiet, introspective ambiance. The distinctive character of this had all the markings of Harrison's well known Asian influences. Avalokiteshvara (1964) was next and this featured two sets of small xylophones played by T. J. Troy and John Schneider that issued a complex set of repeating patterns. This established a solid, purposeful groove, and the orchestral harp entered with a syncopated melody that was most effective. Avalokiteshvara was precisely played by Just Strings, who imparted all the virtues of classic minimalism in good form.
The suite concluded with Beverly's Troubadour Piece (1967) and for this the finger cymbals, bongos and the smaller harp wove a series of different rhythms in and around each other in a delightful pattern – all projecting a courtly, almost formal feel that was perfectly suited to the title. Harp Suite #1 is a brightly beautiful group of pieces, expertly played in this performance, and a telling example of how much Lou Harrison could extract from even small musical forces.
Another Lou Harrison piece, Lyric Phrases (1972) followed, and this began with the scraping of a stick on a gourd by T. J. Troy. A light knocking here also set a steady beat. The guitar joined in with the melody and the orchestral harp repeated a two-note repeating rhythm underneath. All of this had a light, easy feel with an overall sound that was reminiscent of near eastern music. The optimistic character of this piece filled the room with a cheerful buoyancy, abetted by the fine ensemble playing.
The concert concluded with Athabascan Dances (1995) by John Luther Adams and this series of five short pieces formed a natural book-end with the opening suite. Grandpa Joe's Traveling Song was first, and this included the orchestral harp, guitar and what looked to be a group of rattles from the percussion that set down a rhythmic groove. There was a rural, almost country music feel to this – a sound more familiar than that of the Yup'ik Dances. A nice harp solo was heard towards the end followed by a da capo finish. They Will All Go was the next piece and here bongos were played with a mallet to set the beat while the harp carried a light melody above counterpoint in the guitar. This graceful lyricism here clearly revealed the influence of Lou Harrison, longtime  mentor to JL Adams.
Deenaadai' followed, slower and more dramatic. The harp, guitar and what looked to be a small dulcimer all contributed separate melodies – barely connected – and yet the sum of them coalesced nicely. Deenaadai' sets a serious mood, crowned by the sounding of mystical bells at the end. By contrast, Grandpa Joe's Hunting Song had a bright, happy feel, and a more dance-like rhythm. The joy of time spent in the outdoors and in nature was clearly evident and it seemed, again, like our own country music but with a generous Asian influence. Potlatch Song of a Lonely Man completed this set and conveyed a solemn, declarative sense that also felt a bit distant. Odd rhythmic figures were scattered throughout in a way that increased the solitary feel. As this piece progressed, it became more animated with the addition of a strong, rattling percussion. The guitar and orchestral harp engaged in a lively duo, as if duplicating the potlatch gift-giving ritual. As Potlatch Song of a Lonely Man approached its conclusion the drumming and strongly syncopated harp produced a more plaintive feeling, as if summarizing the plight of a lonely man in the clannish Athabascan culture.
All of the works performed by Just Strings in this concert were skillfully played and the alternate tuning smoothly realized. The small scale of these pieces by Lou Harrison and John Luther Adams served to highlight the importance of the craft and detail so artfully employed in the creation of this music.
A recording of many of the pieces performed in this concert is available from Microfest Records.
The next Soundwaves concert is Wednesday, November 16, 2016 at 7:30 PM and will feature pianist Vicki Ray.