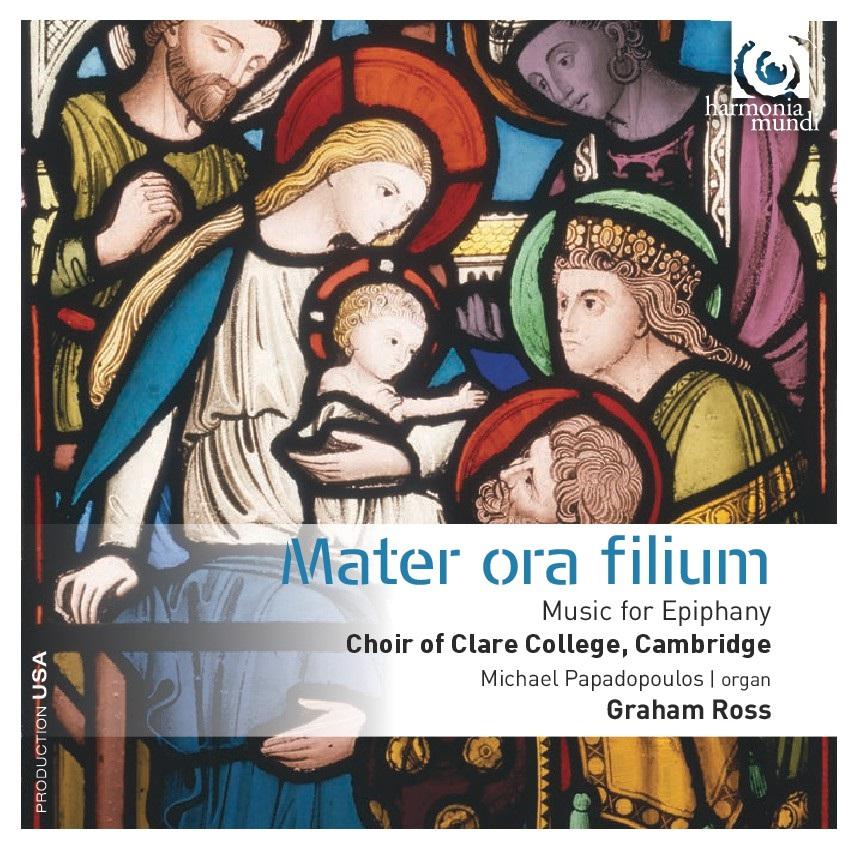 Mater ora fillium: Music for Epiphany
Choir of Clare College, Cambridge; Michael Papadopoulos, organ; Graham Ross, director
Harmonia Mundi CD HUM907653
On the Christian calendar, tomorrow (January 6th) is the Feast of the Epiphany. There are several aspects to Epiphany. First, it is the "Twelfth Day" after Christmas, and so ends the celebrations of that merry season. Second, it is the commemoration of Jesus the Christ's baptism by John the Baptist. Finally, in the spirit of ending a party with a magnificent and mysterious flourish, it is also commemorates the Visit of the Magi to the infant Jesus.
It is this third aspect of Epiphany that has most often drawn composers to create music commemorating the festival. On the Harmonia Mundi CD Mater ora filium: Music for Epiphany, Graham Ross presents a program of primarily sixteenth and twentieth century selections. It is Ross's seventh such recording for HM that is based around one of the events or seasons on the liturgical calendar. Here the interested believer may find much music that, in addition to being entertaining, informs them about the history of the liturgy. However, Christian and secularist alike can enjoy the high level of musicality and sheer beauty of the voices of the Choir of Clare College, Cambridge.
The hymn singing alone, accompanied with rousing verve by organist Michael Papadopoulos, is remarkable. It includes favorites like "As With Gladness, Men of Old" and "Hail to the Lord's Anointed," as well as a lovely rendition of "O worship the Lord in the beauty of Holiness!" Renaissance era motets are well represented. Omnes de Saba by Orlande de Lassus is a particularly jubilant album opener. Purity of tone from sopranos and sepulchral notes from basses are on display, and carefully balanced, in Jean Mouton's Nesciens Mater. Clarity of contrapuntal lines feature in Clemens non Papa's Magi veniunt ab oriente and Giovanni Pierluigi da Palestrina's Tribus miraculis ornatum. The varied tone colors brought to bear in William Byrd's Ecce advenit dominator Dominus provide a sense of mysterious grandeur appropriate to the festival. Careful tuning of cross relations, as well as seamless alternation between the rhythms of chant and polyphony, supplies listeners to John Sheppard's Regis Tharsis with a particularly evocative glimpse into another era's harmonic and rhythmic sensibilities.
Balancing the early music selections are a number of fine pieces from the twentieth century. A standout is Long, Long Ago by Herbert Howells; an initially tender melody gradually rises to an exciting climax, juxtaposed with a steady buildup of added note chords. Another is Benedicamus Domino by Peter Warlock, in which an intricate swath of modal melodies is set against strongly articulated tutti chords. Despite the considerable challenges it poses, Illuminare, Jerusalem, by Judith Weir, is taken at a spirited gallop. Judith Bingham's alluring Epiphany pits a colorful organ part against sinuous vocal chromaticism. Lennox Berkeley's I sing of a maiden is delivered with haunting delicacy. All of this is capped off by the large-scale title work, a tour de force of choral writing by Arnold Bax.
Impressive performances throughout, combined with thoughtful programming, makes Mater ora filium the ideal recording for Twelfth Night!