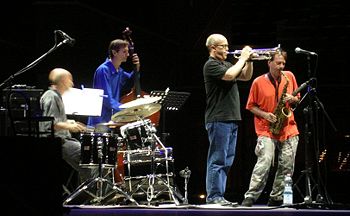 The Stone, the landmark non-profit performance space founded in 2005 by John Zorn and dedicated to the experimental and avant-garde, will move to The Glass Box Theater at Arnhold Hall on 55 West 13th Street, in the heart of New York's Greenwich Village. Arnhold Hall is the performing arts hub for The New School, housing the three performing arts schools of The College of Performing Arts: Mannes School of Music, The New School for Drama, and The New School for Jazz and Contemporary Music.
Beginning in March 2018, The Stone at The New School will operate five nights a week, presenting one show a night in The Glass Box Theater, a ground level performing arts space surrounded by windows to the street and Arnhold Hall lobby and designed as part of the gut renovation of much of Arnhold Hall, led by the architectural firm Deborah Berke Partners.
"I think that what John Zorn has created in The Stone is a real deal miracle. The value of providing a sort of temple to serious music making for serious audiences, in an intimate environment without any interference as to what is performed is perfectly aligned with the long-term values at The New School. What is more, the broad range of artists of the very highest quality, who also happen to be masters of experiment and improvisation, is a perfect fit for the three schools of the College of Performing Arts. I have been a friend and fan of Zorn's for many years and I am extraordinarily grateful to him for making The Stone at The New School possible."
Starting this June, in anticipation of the formal move to The New School, The Stone at The New School will present two shows a week on Friday and Saturdayevenings (schedule attached).
John Zorn will continue to serve as artistic director, overseeing all of the programming. The devoted network of volunteers who help to run The Stone will remain in place, supplemented by support from The New School staff and students. The Glass Box Theater will provide for the exact same number of seats as the present venue for The Stone, preserving its intimate, affordable, no nonsense, music first ethos.
"I am really excited about this next phase of The Stone. Dean Kessler, Provost Marshall, their team, and I put together a framework for The Stone to continue serving as an artist-centric home and community for experimental and avant-garde artists, where they can perform what they want without any interference. We will continue all of the traditions of The Stone, moving it to greatly improved space, and opening up significant opportunity to draw energy from the students at Mannes, The New School for Jazz and Contemporary Music, The New School for Drama, and the entire New School."