On April 4, 2017 Tuesdays@Monk space presented Sarah Cahill in a MicroFest concert titled Happy Birthday Lou Harrison!, marking the centennial year of the influential composer. Aron Kallay, Yuri Inoo and Shalini Vijayan were also on hand as was Bill Alves, who introduced his new book "Harrison – American Musical Maverick." A capacity crowd gathered to hear Ms. Cahill, currently on an extended tour featuring Harrison's early work as well as later pieces.
The concert began with 1st Concerto for Violin and Percussion (1959), performed by Yuri Inoo on percussion and violinist Shalini Vijayan. This consisted of three movements, the first of which started off with a strong beat and purposeful violin line. The Asian influence so typical of Harrison's music are clearly heard in this work, first performed in 1959 but apparently dating back in some form to 1940. The intimate acoustics of the Monk Space amplified every detail, but the playing was always confident and precise. The second movement, Largo, is more sedate, with a flowing violin line and simple percussive beat, it retains the exotic flavor. The final Allegro movement features rapid, syncopated figures in the violin and a strong, driving rhythm. Shalini Vijayan shaped these passages into a smoothly sinuous melody, masterfully drawing out the beauty inherent in this music.
Sarah Cahill next took the stage to perform three early piano pieces. These were found in the Mills College library and are not among Harrison's published works. Range-Song (1939) has a slow and steady feel, augmented by the presence of expressive tone clusters that were a tribute Harrison's mentor Henry Cowell. Jig (1939) has a somewhat faster rhythm, syncopated and dance-like, as well as dense chords that alternate with a simple melody line that effectively heightens the vivid harmonies of this complex, but uncomplicated piece. Dance for Lisa Karon, the last piece in this group, was written in 1938 specifically for a professional dancer. Harrison, like John Cage, found work at this time playing and composing for dance companies and the original score was discovered only recently in San Francisco.  Strong, complex statements mixed with more straightforward sections again serve to enhance emotions powered by the often dense harmonies and thick textures. Although these are early works, all feel fully formed and typically Harrison.
Varied Trio (1986) was next, and for this the happily-named Varied Trio, a Los Angeles-based new music group consisting of Aron Kallay, Yuri Inoo and Shalini Vijayan, took their places. Varied Trio unfolds in five short movements and the first of these nicely showcased Harrison's esteem of Javanese gamelan forms. A lovely sound rose up from the plucked piano strings and vibraphone to create a delicately beautiful foundation for the soaring violin line. The tranquil atmosphere was enhanced by a simple, steady beat in the percussion and the Asian influence was clearly evident. The second movement was driven by a more animated rhythm in the percussion and supplemented by a sharp pizzicato in the violin. The piano joined in counterpoint, complimenting the precise blend in a texture that was highly active, but always reserved and dignified. The third movement was styled as an elegy and the playing was appropriately solemn and introspective – especially in an expressive violin line that was fittingly sad – but never melancholy. Movement 4 was a rondeau homage to the French painter Fragonard, a favorite of Harrison. While there was no percussion in this movement, the sunny optimism and welcoming feel were augmented by a simple melody and the excellent playing of Aron Kallay on piano and Shalini Vijayan on violin. The nostalgic sensibility was warmly sentimental, but never saccharine.
The final movement was clearly a product of Harrison's time playing for dancers. A swirling feeling of exhilaration was clearly heard in the rapid passages and lively rhythms. There was a detectable Asian flavor to this, but mostly it celebrated invigorating physical movement. The clean playing and fine coordination between the musicians in Varied Trio was rewarded with extended applause.
After intermission, Sarah Cahill returned to the piano to perform Conductus from Suite (1942). As Bill Alves explained, Harrison had moved to Los Angeles specifically to study the 12-tone technique with Arnold Schoenberg. Although Schoenberg was notoriously tough on students who attempted this, Harrison succeeded in making a good impression. Conductus dates from this period and is a surprisingly credible effort in this rigorous style. A complex and lively feel nicely captures the Second Vienna School – the phrasing alternates between well-shaped fast and slow passages, without any sense of forced process. Ms. Cahill performed Conductus with careful attention to detail, reflecting the high level of craftsmanship that Harrison had committed to it.
Omnipotent Chair (1940) was next and violinist Shalini Vijayan took the stage along with Yuri Inoo and Aron Kallay on percussion. The five movements of this piece were varied, but all had that distinctive Asian influence so characteristic of Harrison. The percussion often dominated in busy, complex passages as a strong violin melody arced smoothly overhead – the balance of these opposing elements being carefully maintained in both the score and the playing. By the the third movement, the pace was was slower and simpler – a quiet gong adding a touch of the mystical. The fourth movement had an active dance-like feel. A nice groove developed in the percussion that was taken up by the violin; Harrison was surely in familiar territory here. The last movement returned to a slower tempo and the steady drum beat was nicely complimented by the playing of some light bells, ably handled by Kallay. The blend of percussion and melody was perfect and conjured a bit of mystery as the piece faded to a quiet finish.
The three movements of A Summerfield Set (1988) completed the concert program and for this Sarah Cahill returned to the piano. The opening movement, while rapidly paced and full of repeating phrases, was open and sunny. A slower stretch provided some introspective contrast before returning to a recap of the active opening. The slower second movement was a bit more pensive and uncertain, and there was an echo of Harrison's 12 tone influences. A nicely balanced melody and counterpoint – expertly played by Ms. Cahill – rounded out this movement. The final movement was faster and brighter – like a breezy day on a sunny beach or like a day of vacation in the country.
A Summerfield Set dates from later in Harrison's career and is almost conventional in its optimistic sensibility. This made a nice bookend to the earlier works heard, providing an enlightening overview of Harrison's long career. Ms. Cahill and the Varied Trio were greeted with enthusiastic and extended applause at the conclusion of the program. Hearing the music of Lou Harrison invariably leaves you wanting to hear more – and the performances in this centennial concert powerfully confirmed his greatness.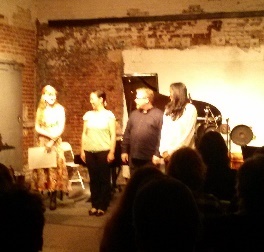 Sarah Cahill continues her extended tour and is scheduled to perform Harrison's music in New York, Boston, The Bay Area, Cleveland, and Hawaii.
MicroFest continues the tribute to Lou Harrison with events at UCLA on April 21, Harvey Mudd College on April 23, Boston Court on May 12 and at the Harrison House in Joshua Tree on May 14.