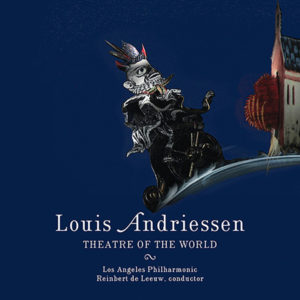 Louis Andriessen
Theatre of the World
Leigh Melrose, Lindsey Kesselman, Marcel Beekman, Steven van Watermeulen, Mattijs van de Woerd, Cristina Zavalloni, vocal soloists
Los Angeles Philharmonic, Reinbert de Leeuw, conductor
Nonesuch 2xCD
Dutch composer Louis Andriessen's 2016 opera, Theatre of the World, subtitled "A Grotesque in Nine Scenes," is a fantastical portrait of Seventeenth century polymath Athanasius Kircher. Commissioned and premiered by the Los Angeles Philharmonic, a recording of the live performance of this production was released in 2017 on Nonesuch.
In a nonlinear narrative propelled by effusively polystylistic music, played with assuredness and flexibility by LA Phil under the direction of Reinbert de Leeuw, Kircher's thwarted late life ambition to find a theory for essentially everything is vividly but quixotically depicted. Among the variety of formal and stylistic devices are Renaissance style counterpoint and dances, post-minimal figurations, neoclassicism in the mold of Stravinsky, and oodles of pop ranging from Latin dances to doo wop to Krautrock. Amplified voices alongside acoustic instruments (apart from an electric guitar and synthesizer) allowing for even the most muscular sections of the orchestration never to overwhelm the singing. The vocalists are uniformly up for the significant demands placed upon them by the score. Particularly fine performances are given by Leigh Melrose in the title role, Lindsey Kesselman playing the boy/Devil, and Cristina Zavalloni as a nun who corresponds with Kircher, serving as intellectual foil, inspiration, and even at times confessor.
On a quest for knowledge, Kircher and his companions are misled by the Devil and periodically waylaid by witches and an ominous executioner: hence the grotesqueries. The production's visuals apparently evoke nightmarish vistas, like an entropic funhouse full of circus mirrors. While a video recording of the opera would be a fascinating document, particularly if the production team were able to further enhance already significant onstage use of multimedia, one still gets a strong sense of the its atmosphere from the audio recording alone. That said, even with libretto and booklet notes in hand, the quick shifts between characters and of plot, demeanor, sung language (I counted seven), and musical tropes makes Theatre of the World a formidable piece to ascertain. Those willing to provide an attentive ear will find themselves richly rewarded by Andriessen's compelling use of the aforementioned plethora of material to stymy stale operatic conventions and, in their place, embrace a richly hued, multimedia theatrical environment. Theatre of the World is the most imaginative and ambitious piece that LA Philharmonic has commissioned and presented to date. Nonesuch's excellent CD of it is my pick for Best Contemporary Opera Recording 2017.
-Christian Carey