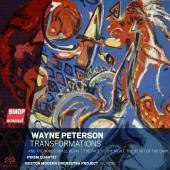 Wayne Peterson
Transformations
Boston Modern Orchestra Project, Gil Rose, conductor; PRISM Quartet
BMOP/sound 1053
Composer Wayne Peterson (b. 1927) served as one of his generation's fixtures on the West Coast music scene where, in addition to several other academic appointments, he elevated the composition program at San Francisco State to prominence. Despite fine recordings of his chamber music, this is his first portrait disc of orchestral music. 2017 has been a year where Boston Modern Orchestra Project, under the inspired direction of Gil Rose, has released a number of fine recordings, including CDs of works by Paul Moravec, David Del Tredici, Stephen Hartke, and Jeremy Gill (more about these in a forthcoming article). All are worthy of recommendation, but it is the Peterson disc that sticks out for me, both in terms of filling in a gap in late Twentieth century repertoire, and in the considerable durability of the works it contains.
Transformations (1985), which resembles a concerto for orchestra, is a marvelous display of timbre, with recurring fanfare-like gestures of repeated notes and chords, punctuated by interjections from percussion, juxtaposed against solo passages and richly overlaid ensembles for each of the orchestra's sections. Frequent changes in demeanor create an almost kaleidoscopic effect. While the playing is excellent all around, pianist Linda Osborn deserves kudos for tackling a formidable part.
Jazz played an important role in Peterson's development as a composer. There are jazz influences in all three of the pieces presented here, none more so than And the Winds Shall Blow (1994), a saxophone quartet concerto. PRISM Quartet are the estimable soloists here, often playing ensemble passages with such precision and fluidity that they sound like a single mega-instrument. The saxophone solo passages are where the flavor of jazz most keenly persists, and all of the PRISM members play them displaying a strong sense of jazz history, appropriately inflecting each successive homage to swing, bebop, and modern styles. In other places, quartet and orchestra alike are filled with contrapuntal intensity. Rose balances the many competing elements, artfully complex, and assures that each line receives due clarity.
Peterson won the Pulitzer Prize in 1992 for the last of the selections on the BMOP disc, The Face of the Night, The Heart of the Dark, but this honor was not bestowed without controversy. Ralph Shapey had been tipped off early that his piece was the music jury's recommendation, and raised hell when Peterson was selected over him by the board. After many years with only Shapey's score to consult, I was grateful to finally acquaint myself with the Peterson piece and judge for myself (The Face of the Night… was played only once and a commercial recording wasn't released at the time – nor has Shapey's been recorded commercially. In fact, it would be wonderful if BMOP turned its attentions to Shapey on a future portrait CD – they would play his work just as eloquently as they present Peterson's). As a Shapey scholar, and based on some of the press I had read about the debacle, I'll cop to a bit of bias: I had presumed that his Concerto Fantastique would win handily: I'm happy to admit that I was wrong. Both are excellent compositions. The Face of the Night, The Heart of the Dark is expressive and labyrinthine in form where Concerto Fantastique is taut and sectional, but both display a compelling, complex harmonic language and masterful use of the orchestra.
Face of the Night… is cast in two movements. The nocturne form is given a modern treatment not unlike the insomniac reveries of Elliott Carter's Night Fantasies. Rapid shifts in demeanor betray the stray thoughts that sometimes keep us from sleep or inhabit our dreams. Peterson's Face of the Night, The Heart of the Dark has passages that underscore the portentous quality suggested by its title. However, all is not nightmarish: there are beautiful moments of repose and reflection that suggest the coming darkness is not entirely enveloping: dawn awaits. The work's climax is stirring and resolute – one imagines bolting upright from bed.
Transformations is Sequenza 21's Best Orchestra Portrait CD of 2017.