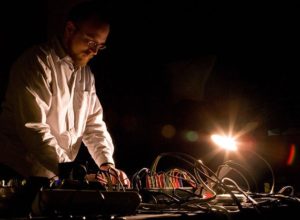 One year ago the Pacific Northwest's new music community was stunned by the suicide of Matt Shoemaker: painter and musician, enthusiastic traveler, frequent performer with Gamelan Pacifica, and accomplished creator in the genre of dark ambient. Shoemaker's "electroacoustic soundscapes" have been released in a variety of formats by Elevator Bath, Helen Scarsdale Agency and other labels, and I offer an overview of this work in the Second Inversion article Mutable Depths: Remembering Matt Shoemaker. Shoemaker was a veteran of Seattle's formidable electronic music scene, and he often performed his music at the Chapel Performance Space, the workhorse venue for experimental music in this city. It was there that an assembly of his colleagues, friends and admirers gathered on the night of May 5 to honor his memory.
Eric Lanzillotta opened the evening by coaxing deep, dense sonorities from a Moog MG-1 analog synthesizer. These gently modulated sounds were soon joined by filtered bands of pink noise, and then by low frequency sine wave glissandos. These latter often seemed to be amplitude modulated by a noise source to create an irregular tremolo, a time-honored technique for introducing complexity into the innately regular sonorities of electronic instruments. Lanzillotta often collaborated with Shoemaker, and the two can be heard jamming together in a 2005 session that has been released on Anomalous Records. An excerpt thereof is available on SoundCloud:
Jim Haynes took the stage next. This California-based musician and Helen Scarsdale Agency proprietor began by recounting the impact of encountering Shoemaker's music for the first time ("Fuck, this guy is doing what I'm trying to do, only way better"). Next Haynes stepped up to his instrument table and brought in a major sixth drone that anchored the first several minutes of his set. Like Lanzillotta, Haynes exclusively used abstract, synthesized sounds—most notably a series of falling glissandos that swelled to an incredibly loud and thick climax before suddenly evaporating into one of those electronic "rattles" that evoke the world of Forbidden Planet-style sci-fi movie soundtracks.
I'd been curious about the half dozen 40W halogen bulbs scattered across Haynes' setup until finally, ten minutes in, they started to illuminate, powered by the same pink noise source that was controlling the amplitude of his rumbling oscillators. A visual and aural crescendo ensued, the blinding effect of these irregularly flickering lamps inside the otherwise dark Chapel interior suggesting a campfire emerging from beyond the grave—a vast improvement over those tacky synchronized disco lights you see at popular concerts and clubs.
As he'd done before, Haynes suddenly cut the signal to the lamps and oscillators, leaving only a faint heartbeat-like pulse. After a few forlorn palpitations, the set ended. Of the evening's offerings, it was Haynes' music that reminded me the most of Shoemaker's.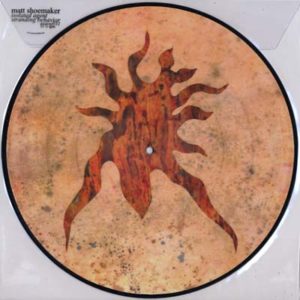 Up next was Climax Golden Twins, a Seattle-based experimental music band that has been active in various guises for 25 years, and whose configuration for the night comprised founders Robert Millis and Jeffrey Taylor along with Dave Knott and Jesse Paul Miller. The instrumentarium featured analog and digital synths, guitars, a hi-hat and an array of toys and other homemade contraptions. The music was free improv with the continuous transitions and generally slow tempos that are characteristic of that genre nowadays. The 20 minute set included the first concrete sounds of the evening: radio signals transduced through guitar pickups, sampled instruments and, most poignantly, excerpts from Shoemaker himself playing a Millis piano piece. These latter sounds, repetitive tinkerings on a C♯ minor triad of a kind I'd associate with Brian Eno or West Coast postminimalism, served to anchor the final five minutes of the set, which saw Knott walking through the space plucking this same chord on a ukulele as the piano excerpts played on, both forward and backward.
Knott remained onstage for a solo set that featured a half-sized bottleneck guitar with custom re-entrant tuning designed so that when the fingerboard is barred at the 9th fret, the strings can be played on either side. Its timbre reminded me of the spicy, transient-rich sounds of a Japanese biwa or samisen. The improvisation began in free rhythm, eventually taking on a steady pulse the way that a raga performance might progress from alap to jor. As the music grew more animated, Knott's use of a sliding glass rod imparted a bit of Hawaiian inflection, and for the last few minutes Knott performed overtone singing over his now-steady strumming.
Miller returned to close out the event with a video featuring footage he shot in Indonesia, where Shoemaker had once spent several formative months. The multilayered imagery was conveyed in extremely fast cutting, sometimes combined with time lapse layers, and the montage was accompanied by synth drones mixed with field recordings (also from Indonesia). It was a suitable conclusion, and a reminder of the visual side of Shoemaker's art (which was simultaneously on display in a memorial exhibit at Jack Straw New Media Gallery). All told, it was a substantive and beautiful evening of timbrally rich music befitting its dedicatee.