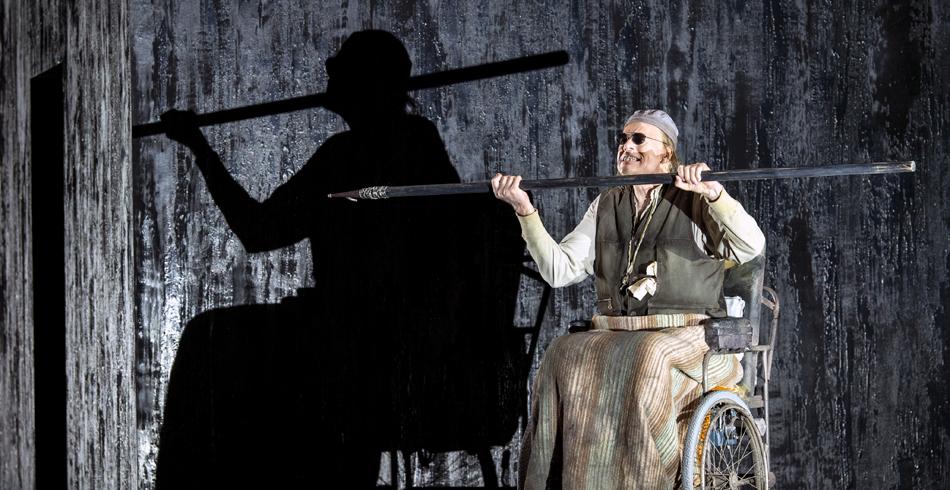 [Ed. note: Former S21 contributor, member, and friend David Salvage has in the last couple years pulled up his U.S. tent pegs and landed in Italy. He's offered up his review of the latest György Kurtág premiere last month at La Scala.]
………………………………………………….
After decades of prodding, false starts, intense study, delays, and, finally, seven years of composing, György Kurtág, at age ninety-two, has written his first opera. For its subject matter, he has chosen Samuel Beckett's Endgame, a play he saw during its initial run in Paris in 1957 and has loved ever since. World premieres don't get any more hotly anticipated than this, and it was a privilege to be in attendance for the opera's final performance at the Teatro alla Scala in Milan.
Endgame takes place on one of the last days of an imperious invalid named Hamm. As he sits in his wheelchair, he gives his servant, Clov, half-pointless tasks to do, like reporting on what's outside the windows or pushing him around the room. Stuck in the same space are Hamm's parents, Nagg and Nell, who live in two trashcans, having lost their legs years earlier in a biking accident. There is little food left for the four of them, and outside lies a bleak landscape of post-apocalyptic desolation.
While Kurtág's work will inevitably be referred to simply as Fin de partie, its complete title is worth keeping in mind. The opera is actually called Samuel Beckett: Fin de partie and bears the subtitle "scenes and monologues, opera in one act." By including Beckett's name in the title, Kurtág connects the work with his earlier Beckett setting, Samuel Beckett: What is the Word; with the subtitle, he suggests that the present is something formally more open than a traditional opera.
The result bears out both title and subtitle. The original version of What is the Word is for singer and piano, and the piano doubles the singer note for note without contributing additional harmony or counterpoint. A similar closeness marks Kurtág's approach to the singers and orchestra in Fin de partie: while the orchestration is vast and colorful and adds harmony to the vocal lines, emphasis to the stage action, and commentary on the text, principally, the instruments serve to double the vocal lines, making for an almost monadic work that is intensely expressive. Indeed, this is the miracle of Fin de partie: Beckett's play is quirky, intimate, and subtle—in other words, not material readily suitable for operatic adaptation. And yet Kurtág's music captures the text's many mercurial shifts in tone while remaining nothing if not coherent and compelling. As much as any opera in history, Fin de partie finds that magical ground where song, speech, and tone are united. Rather than an end of anything, I found it to be a beginning, an opera rich in new possibilities for composers to come.
It is with the opera's subtitle, however, where Kurtág seems less surefooted. In creating a libretto of an appropriate length, he has very significantly reduced the role of Clov. By doing so, Kurtág has weakened the play's dramatic heart: the complex interdependence of a master and his servant. These cuts make some important moments in the opera's second half come out awkwardly. When Hamm laments that a stuffed dog is not in fact real, the statement is a bit baffling because Kurtág has the cut the play's sad and comical stuffed-dog scene (which involves Clov).  When Hamm thanks Clov for all he has done for him, we might be similarly puzzled, since in the opera he does little for his master (crucial scenes mentioned above involving the windows and the wheelchair ride are also cut). Strangely, Kurtág also omits the parts where Hamm asks Clov whether it's time for his painkiller; in the play, Clov always says that it's not time; at the end, he finally reveals to Hamm that there is no more painkiller left. In the opera, we only get this final exchange: the result is a sudden outburst that lacks catharsis. And in the opera, Clov's long concluding monologue (prompted by Hamm to say something "from the heart") seems more like a set-piece than the expression of things long unspoken.
By attenuating the play's central conflict, Kurtág's Fin de partie becomes less unified—more "open"—than Beckett's original. As a result, it prioritizes the expression of inwardness over the realization of drama. As the opera goes on, the monologues take over, and the drama becomes more and more suspended. Of course, monologues can heighten drama; but this depends on the characters' being insightful about themselves, others, or their situations. Beckett's aren't, and he wisely never lets their stories, musings, or ramblings dominate for too long in the play.
While I loved every note of Fin de partie and found the music's force such that I've had trouble composing ever since seeing it, I remain puzzled as to what was gained by the approach Kurtág took: reducing Clov cuts into the play's very core, and giving the monologues free reign is the wrong approach for this material. (I have some speculations about this, but I'll save them for the comments section.)
Meanwhile, what remains is a grand achievement—a new opera at an extraordinarily high level. Those who stuck their necks out to make Fin de partie happen—Alexander Pereira, sovrintendente of La Scala, perhaps foremost among them—deserve our respect and gratitude. However problematic it might be, this is a work that bestows honor on any institution who decides to mount it or any musician who participates in its performance.