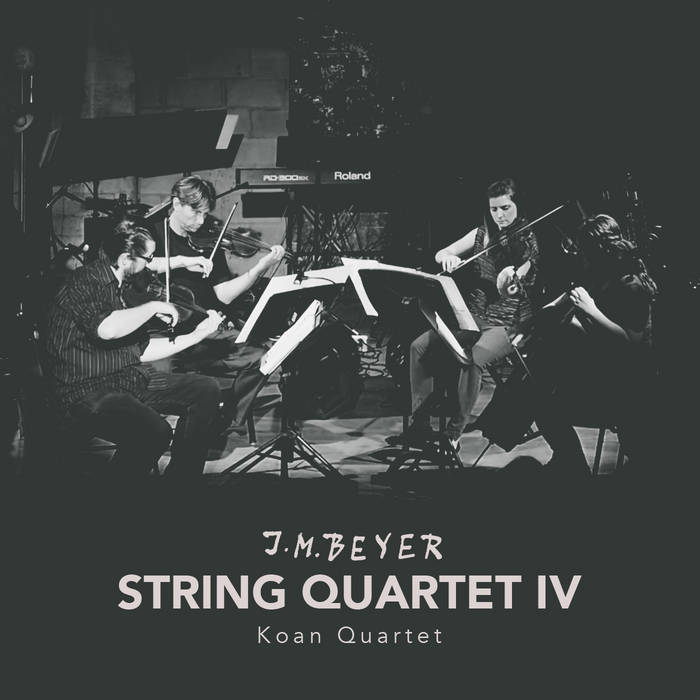 The Koan Quartet has recently posted the premiere commercial recording of Johanna Beyer's String Quartet IV. The German-born Ms. Beyer is one of the lesser known composers of experimental music and was most active during the 1930s. She is associated with contemporaries such as Henry Cowell, Ruth Crawford Seeger, Carl Ruggles and others of that era. Her music has been described as economical and well-balanced with a dash of the whimsical, as well as having a solid commitment to experimentation. Beyer's 1938 work, Music of the Spheres, was the first piece for electronic instruments to be scored by a woman. Some of her work prefigures later musical developments, including tone clusters, pitch-based rhythmic processes and repetitive elements as subsequently employed by the minimalists.

Ms. Beyer died in 1944 and her legacy had largely been forgotten, but an extensive editing and recopying of scores by the Frog Peak/Johanna Beyer Project has brought her work back into current view. There is now a good selection of her works available. The Koan Quartet has, for the first time, recorded Beyer's String Quartet IV, a piece thought to have been composed in 1943, and not known to have been performed during her lifetime.

The most prominent feature of the string quartets of Johanna Beyer is that they typically consist of short movements. String Quartet IV is just 12 minutes spread over four movements. For all their economy and brevity, however, nothing is lacking. Where Haydn might take several minutes to work out the arc of a single movement, Johanna Beyer expresses her musical ideas fully, yet succinctly, and the listener does not feel in any way short-changed.

"Movement I – Moderato" of String Quartet IV opens with playful variations on what sounds like a children's melody, confirming Beyer's longstanding attraction to the lighthearted. The brief form and structure are solidly and carefully detailed here by the Koan Quartet. Dissonance in the counterpoint – normally a distinguishing feature of Beyer's music – is not as prominent here as in, for example, her String Quartet II. The sound is nevertheless full and elegant, especially in the dramatic finish of this movement.

"Movement II – Larghetto", opens with a mournful solo – slow, deliberate and spare. There is a somber, expressive feeling to this, especially in the lower strings. There is also a faint echo of the melody from the first movement, but subdued and with a solemn feel. The pizzicato phrases that come and go throughout this movement are cleanly played by the Koan Quartet against the sustained tones of the melody. "Movement III – Andante" begins with a low cello solo, followed by strongly declarative and march-like tutti theme. There is a sense of purpose and action here making a good contrast to the second movement. A stretch of warm harmony precedes a return to the strident rhythms of the theme as this movement finishes.

"Movement IV – Presto" has an active and busy feel, and is filled with rapid tutti passages. The characteristic Beyer dissonance in the counterpoint is more in evidence here and nicely emphasizes the sense of movement. This final movement is nicely complex, but not overwhelmingly so and provides a spirited finish to the entire piece. String Quartet IV is an appealing work whose charm is enhanced by its modest scale. Perhaps miniature string quartets, such as the gems composed by Johanna Beyer, deserve greater consideration in the experimental repertory. The Koan Quartet has made some history here with the first commercial recording of String Quartet IV, and their fine playing has rightly increased their reputation as a reliable source of historically valuable performances.

Koan Quartet is Eric KM Clark and Orin Hildestad, violins; Cassia Streb, viola; and Jennifer Bewerse; cello.

Joanna Beyer: String Quarter IV is available as an EP digital download at Bandcamp.