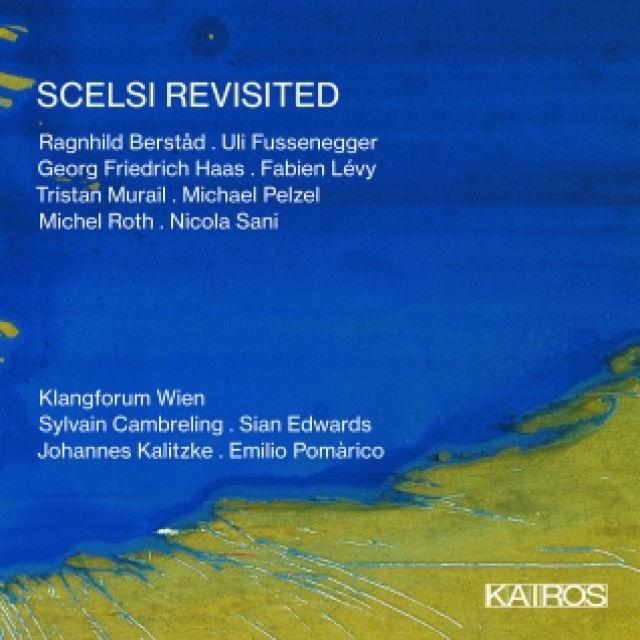 Scelsi Revisited
Klangforum Wien, Sylvain Cambreling, Johannes Kalitzke, conductors
Kairos 2XCD
A number of prominent European composers took part in Scelsi revisited, a festival, documented on this double-CD, celebrating Giacinto Scelsi's music. Their tribute pieces were based on unrealized tapes of Scelsi playing the Ondiola, a three-octave tube synthesizer that was his preferred instrument for making drafts of his works. Some are incorporated directly into pieces, others remixed and morphed as part of larger electronic designs, and some merely outline materials subsequently reworked by the selected composers. The forces used are often that of Anahit, Scelsi's piece for violin and ensemble, previously recorded by Klangforum Wien for Kairos.
Michael Petzel's Sculture di Suono addresses the beating, tremolo, and fading in and out of material often present in Scelsi's tapes. The piece contains beautifully distressed microtonal bends, particularly among the winds, ornaments by the oboe, and references to Scelsi's "organ sound," with its tonal implications and plethora of thirds and sixths. Michel Roth's Moi (see the article referenced below) also demonstrates beating, including the rhythmical quality found on Scelsi's tapes, difference tones, and a particularly varied and engaging orchestration.
Tristan Murail had a long association with Scelsi, performing some of his works with the ensemble L'itineraire in the 1970s. In Murail's Un Sogno, the composer reworks Scelsi's tapes, augmenting them with his own electronics and spectral harmonies for the ensemble, creating an imaginative tribute piece. Introduktion und Transsonation, by Georg Friedrich Haas, allows tapes to roll and encourages Klangforum Wien to improvise along with them.
Nicola Sani's "Gimme Scelsi" deals with long sustained sounds that are then morphed by microtonal ornaments and harmonics, made all the more powerful by space in between the utterances. Later in the piece, block harmonies once again recall Scelsi's "organ sound." Clocking in at more than 42 minutes, Ulli Fussenegger's San Teodoro 8 is the most expansive work on the recording. Fussenegger made tapes from Scelsi's archives for all of the participating composers and he uses a great deal of this material in his own piece, which is also arrayed with original electronic components and melodic material based on monad and dyad formulations. The Ondiola material is front-loaded in a way that is seldomly done in the other pieces.Like Anahit, it also features a violin soloist, but a number of members of the ensemble get a chance to take a solo turn. Á tue tet by Fabien Levy is for nine winds distributed throughout the performance space. It juxtaposes pointillist shards of ricocheting fragments into gradual pile-ups of texture. The second disc closes with Cardinald by Ragnhild Bergstad, who takes the more gentle aspects of Scelsi's artistry, as well as nature sounds, notably the song of the robin, to create a more placid surface than the other works presented here. An appealing denouement and gentle coda to a fascinating collection of pieces.
The booklet notes are excellent, including the Scelsi' "symbol," a rare photo of the composer, and Ragnhild Berstad's thoughtful essay on reception history and the revisited project itself. Berstad doesn't shy away from the controversies surrounding Scelsi's legacy, notably the article "Scelsi c'est moi" by Vieri Tosattis, one of the musicians who helped Scelsi to transcribe his tapes to musical notation. Of the revisited project, Berstad instead suggests "Scelsi, c'est nous," pointing out the myriad ways that the composer has made his presence felt here and elsewhere. Scelsi continues to inspire, as the composers and performers on this recording readily attest. One of the best releases of 2020.
-Christian Carey