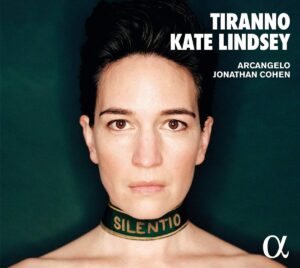 Tiranno
Kate Lindsey, mezzo-soprano
Arcangelo, Jonathan Cohen, director
Alpha Records – Alpha 736
Nero, Emperor of Rome from AD 54-68, is the subject of a set of baroque arias and cantatas on mezzo-soprano Kate Lindsey's latest recording with Arcangelo. Over the course of the program, Lindsey portrays several of the main characters associated with Nero's biography: the Emperor himself, his mother Agrippina, his first wife Ottavia, and consort Poppea.
Alessandro Scarlatti's cantata Il Nerone presents its titular character at his most tyrannical, singing "In my realm only cruelty reigns." Lindsey conquers both the fast flying melismas and jaunty swagger of the cantata's first aria, in which the gods are told to bow down to Nero's grandeur. Yes, this Nero plays the lyre while Rome burns, which is presented in a chilling, understated manner by Lindsey and Arcangelo. Like the other Scarlatti cantata on the recording, La Morte di Nerone (a premiere recording), Il Nerone ends with a recitative instead of aria, each declaring the tyrant's intentions. In La Morte di Nerone, these are to commit suicide before the Senate's agents can capture and execute him like a common outlaw in the arena. Scarlatti at least gives Nero a belated moment of regret, in part making his decision to take his own life based on remorse over murdering Agrippina, Ottavia, and Poppea. It is a compelling interior monologue and Lindsey portrays Nero's defiance with steely tone and remorse with affecting long lines in straight tone.
Many of the composers here were likely inspired to take up the Nero story by Claudio Monteverdi's last opera, L'Incoronazione di Poppea. Accordingly, Tiranno includes four excerpts from the work. The Act five duet, Or che Seneca é morto, in which Lindsey is joined by tenor Andrew Staples, finds Nero gleeful at the death of his former advisor, the famed philosopher Seneca. The two singers are well-matched and sing runs impressively, playing off one another in contrapuntal passages and declamatory recitatives alike. The most famous piece from the opera, its closing duet Pur ti miro, has in recent decades had its authorship by Monteverdi cast in doubt in favor of Francesco Sacrati, little of whose own music has come down to us. Soprano Nardus Williams and Lindsey sing it sumptuously, making the most of its aching closely written dissonances.
Bartolomeo Monari's La Poppea, another premiere recording, details Poppea's unfortunate end, kicked to death to Nero while pregnant; the child is lost too. Wrenching dissonance is used daringly by Monari to describe both the death throes and grief of Poppea. Lindsey allows this chromaticism to spur her expressivity, making the cantata an emotive threnody. The intimate interaction between Lindsey and the Arcangelo throughout, but particularly in Monari's unfamiliar cantata, makes me want to seek out their 2018 recording together, Arianna, forthwith.
George Friedrich Handel was fascinated with the character of Agripina, so much so that he wrote an opera with her as the title character and a (now lost) Nero opera. Lindsey impresses in the aria Orrida, oscura, with cleanly delivered coloratura and imaginative ornaments. Her declamation in the recitatives is expressive and varied as well. One can clearly see in the short documentary on the recording how seriously both Lindsey and her instrumental collaborators take expressing the text. Nor are they averse to making a connection between their program about an authoritarian and the strife that has occurred in recent days. The character Nero serves as a warning to those propping up tyrants today: the consequences can be deadly.
Documentary on the recording: