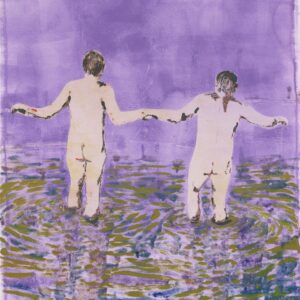 Best EP of 2021
Light Past Blue
Alex Somers & Aska Matsumiya
Mini LP
Sometimes music sneaks up on you. This recording, Light Past Blue, just dropped Friday, indeed out of the blue, braving the hustle bustle and list making of the holiday season to provide 20 minutes of exquisite calm.
Alex Somers is a composer and producer who has worked with a heady roster of talents that includes Sigur Rós, Jónsi, Julianna Barwick, Sin Fang, and Gyða Valtýsdóttir. He performed in the duo Jónsi & Alex Somers, who released two albums Riceboy Sleeps (2009) and Lost and Found (2019). Somers has been prolific in creating solo work, with two LPs, Siblings 1 and Siblings 2, out in 2021 alone. Aska Matsumiya, based in LA, is a Japanese composer and producer with numerous television, film, and advertising credits, She is currently at work on a number of installation projects and her first solo album. The duo bring their diverse backgrounds to bear in a five-movement suite, Light Past Blue, that originally was an installation work for 26 surround speakers that appeared at the French artist Claire Taboret's exhibition "If Only the Sea Could Sleep" (2019).
The music must have been something in that surround setting, as it is quite encompassing in stereo. The sounds of maritime field recordings – ship bells, groaning lines, and rhythmic splashing of water against hulls – provide an ostinato underpinning for all five movements. Triadic drones build up through the piece from long bass notes to angelic overtones. Snippets of melody intertwine in asymmetric repetitions. Contributions by guest artists are highlights of the arrangement. Mary Lattimore's harp provides harmonic continuity and avian gestures that buoy the soundscape, while cellist Gyða Valtýsdóttir adds layers of tenor register melody and sonorous bass notes to warm the wash of synthesizers in the mix.
In a year in which the genre flourished, Light Past Blue is some of the most beautiful ambient music of 2021. 
-Christian Carey