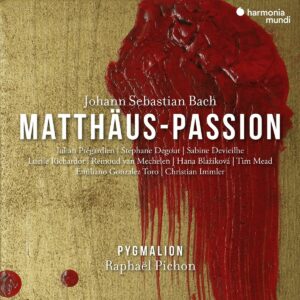 J.S. Bach: St. Matthäus-Passion
Pygmalion, Raphaël Pichon
Harmonia Mundi 2xCD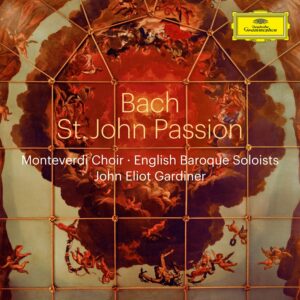 J.S. Bach: St. John Passion
English Baroque Soloists, Monteverdi Choir, John Eliot Gardiner, conductor
Deutsche Grammophon 2XCD
The Bach Passions are a staple of the choral repertoire for Holy Week, and there are a number of fine recordings of them. There's room for more; two additions to this corpus from 2022 are extraordinary: a St. Matthew Passion recorded by Pygmalion, directed by Raphaël Pichon for HM, and a St. John Passion by one of the great Bach conductors, John Eliot Gardiner, with his house bands the English Baroque Soloists and Monteverdi Choir, for DG. Even if you already have recordings of these remarkable works in your collection, it is well worth investing in these. Both are recorded in vivid sound and take a period-informed approach that is lithe and lively, never fussy. 
Pichon crafts an exciting version of the St. Matthew Passion that underscores its theological story and musical gravitas. Some recordings split tracks in such a way that there is a distinct feeling of stopping and starting again. Not this one, where the listener is afforded a propulsive trajectory all the way through the trial and execution of Jesus that scarcely lets up. Julian Prégardien as the Evangelist and Stéphane Degout as Christ make for a compelling pair of principals, both underscoring the narrative component of the Passion setting. The soloists, taken from the choruses of Pygmalion, provide singing of arias that is supple and often poignant. In particular, bass-baritone Christian Immler's singing of the arias "Gebt zum meinem Jesu wieder" and "Mache dich, mein Herze rein" are some of the best versions on record and Tim Mead is a memorable presence in the countertenor solos.  
Gardiner's recording – his third of the St. John Passion – was made from a live performance that occurred on Good Friday, 2021. In adhering to Covid protocols, the performers were more spread out than they usually would be. Rather than weakening the impact of the piece, the spaciousness of ensemble deployment serves it well, with contrapuntal lines distinctly rendered and tutti passages losing little of their weight. The choir's sections are vivid, displaying excellent diction and musicality, and the instrumentalists present Bach's music with sensitive tuning and diverse timbral combinations. The soloists, to a person, are compelling interpreters who are well cast in their respective roles. The difference in sound between the two tenors, Nick Pritchard's eloquent Evangelist and Peter Davoren's powerful tenor solos, is a fetching contrast. William Thomas, cast as Jesus, provides a strong and eloquent protagonist. In their solos, soprano Julia Doyle and countertenor Alexander Chance spin legato lines that dovetail with obbligato instruments in seamless blends.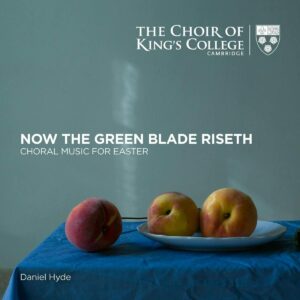 Now The Green Blade Riseth
The Choir of King's College, Cambridge, Daniel Hyde, conductor
Matthew Martin, Paul Greally, organ
On Now The Green Blade Riseth, the Choir of King's College, Cambridge, presents selections that reflect the Holy Week journey from Palm Sunday to Easter. They include hymns and anthems that range in date from the Renaissance to the present day, with special emphasis on pieces that have been performed at King's in the nineteenth and twentieth centuries. Daniel Hyde has crafted the choristers' voices into an extraordinary blend, from the clarion topmost trebles to a powerful bass section, particularly for one found in a scholastic setting. 
The hymn-singing emphasizes a blend and balance that encourages collectivity; listeners may well find themselves singing along, particularly to the Palm Sunday hymn "Ride On in Majesty," and a rousing version of "Jesus Christ is Risen Today," which includes a cadenza with some surprising twists and turns. Those who have performed with church choirs, from amateurs to professionals, will doubtless enjoy the inclusion of John Stainer's anthem "God So Loved the World," from his cantata The Crucifixion. Bob Chilcott's version of the title hymn, using Lydian rather than the original tune's Dorian mode, shows off the delicate stops on the organ and piano singing from the choir to great advantage. 
There are gems aplenty among the anthems, both in terms of selection of repertoire and performance. The Ubi Caritas setting by Maurice Durufle is the writer's favorite selection on the CD, a beautiful work beautifully performed. Civitas Sancti Tui by William Byrd, which scholars have often suggested is a coded message of solidarity with recusant Catholics under Elizabeth's reign, finds the choristers reveling in luxurious imitative counterpoint. O Salutaris Hostis by Giacchino Rossini instead provides powerful tutti passages in an operatic shading of a church anthem. Antonio Lotti's Crucifixus balances chordal writing with aching suspensions. 
English music from Elgar forward is given particularly affectionate treatment. That composer's relatively early "Light of Life," affords the organ a lush accompaniment and the singers' close-knit harmonies. Samuel Sebastian Wesley's "Wash Me Throughly" features treble solos and ensemble passages, reminding listeners of the extraordinary musical training that young people receive at King's. A standout is John Ireland's "Greater Love Hath No Man," which begins subtly with intricate harmonies and builds to a soaring climax. Christus Vincit by Martin Baker alternates melodic phrases between upper and lower voices and a vigorous organ part. The CD closes with a transcription by Durufle of Tournemire's Improvisation sur le 'Victimae Paschali,' a solo organ piece that serves as a postlude ending things in virtuosic fashion. Thoroughly recommended for Easter or any time of year.
-Christian Carey