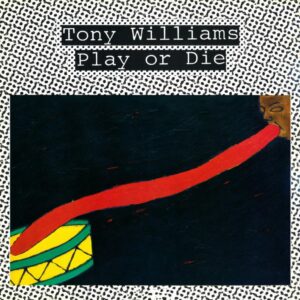 Tony Williams
Play or Die
Tony Williams, drums, percussion, vocals; Tom Grant, keyboards, synthesizer;
Patrick O'Hearn, electric bass.
M.I.G. Music GMBH
Recorded in Stuttgart in 1980 and limited to 500 copies that weren't widely distributed outside Germany, Play or Die, led by late drummer Tony Williams, is a unicorn record that is finally receiving a reissue. Joined by keyboardist Tom Grant and bassist Patrick O'Hearn, Williams leans in on one his most fusion focused recordings. Sharing the composition duties with O'Hearn, Play or Die includes two originals by the drummer, one by the bassist, and a "Jam Tune" credited to the trio. 
O'Hearn's contribution, "The Big Man," features a low-range and wide-ranging melody on the bass guitar, one that could well stand beside "Walking on the Moon" as a memorable bass hook. Meanwhile, Tom Grant supplies ska chord stabs and synth filigrees and Williams goes his own way, playing powerfully with myriad virtuoso fills.
Williams begins "Beach Ball Tango" with a roll-filled solo. When the others join, O'Hearn once again provides a tuneful melody, but it is Grant who leads the fray with a mono-synth line and rhythmically charged ornaments. Another solo from Williams frames the piece and is followed by a return of the head to close. 
 The jam tune is a workout over a funky groove that gives each musician a chance to spread out in their soloing. The now-vintage synths played by Grant timestamp Play or Die on the cusp of the 1980s. His soloing, too, reflects giants from that era, ranging from David Sancious to Herbie Hancock. The number of keyboards Grant must deploy in a single tune are reminiscent of the formidable racks one saw in front of Rick Wakeman, Patrick Moraz, and Geoff Downes in seventies prog settings. Doubling O'Hearn's bass line in his left hand, Grant plays an energetic solo in his right. Williams is right there alongside them, propelling the activity energetically. 
"Para Oriente" is a syncopated mid-tempo tune with a bluesy cast and an interesting modulation in the bridge. Not to slight percussionists, but it is impressive how Williams combines bluesy progressions and prog harmonies into a single piece. O'Hearn takes a fleet-fingered solo followed by yet another section that introduces a new motif and heady solo from the keyboards. When the original material returns, the unorthodox development and reentry make it seem transformed. 
One doesn't think of Williams as a singer, but his vocal turn on "There Comes a Time," which is haloed by overdubbed vocals in the chorus, is lyrically soulful. The chord progression supplied by Grant and O'Hearn, over which Williams sings and plays, includes lots of substitutions that feel tangy against the vocal melody. 
Unicorn records always make one wish for more: another LP from the group, a longer life for Tony Williams. While those dreams are unachievable, we have Williams's widow to thank for working with M.I.G. Music to reissue this extraordinary recording. Ready, just as in 1980, to blow  listeners' minds.
-Christian Carey