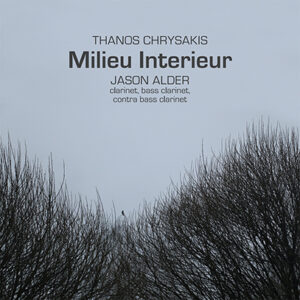 Milieu Interieur
Jason Alder, clarinets
Clarinet music by Thanos Chrysakis
Thanos Chrysakis is a prominent composer from Greece who works in electroacoustic music, as a performer and creating sound environments, as well as writing contemporary concert music. He relishes small combinations; solo and duet writing feature prominently in his output. Milieu Interieur is a full length recording of music for clarinets, performed by Jason Alder. Chrysakis has composed five pieces for Bb, bass, and contrabass clarinet of significant duration for solo works. The versatility with which he approaches these pieces, as well as his detailed knowledge of the inner workings of the clarinet, make this a diverting listen. 
Fáessa is for solo Bb clarinet and it passes eleven minutes in duration. Here as elsewhere, extended techniques abound: microtones, multiphonics, glissandos, and the like. Fáessa is a showcase of fluidity, with smooth movement between pitches and micro-intervals, interrupted intermittently by passages of multiphonics. It moves through the entire range of the instrument. Alder's altissimo playing is seemingly effortless. 
There are two versions of the title piece, one for bass and another for contrabass clarinet. The first begins in the lowest register, sustained, then trilling. An angular melody punctuated by glissandos becomes the principal linear element. Luster-toned overblown notes create an interlude, then trilling and bass growls return. Another passage features a conjunct passage of multiphonics. The melody returns in a baritone register. Fluttering notes conjoined with multiphonics create a singular timbral passage. Despite the variety of these modes of playing, Chrysakis uses repetition and registral development to create a coherent, albeit labyrinthine, formal design. The second half features long, sustained notes, a slowed down version of the material from earlier. Seamless shifting between registers is another calling card for Alder's playing. A rapturous section of repeated notes throughout the compass is juxtaposed with disjunct arpeggiations in a coda that concludes with a clangorous bass note. Millieu Interieur 2 is half the length of the first piece and revises its form to reposition material in different places. The sound of the altissimo register of this instrument is extraordinary, perhaps equaling its tremendous, sonorous bass notes.
Noctilucent Clouds is for two overdubbed bass clarinets. Slow-paced trilling and oscillations of micro-intervals are set against repeated notes in the upper register. When the two instruments reach detuned unisons, blurred repeated notes, and sustained multiphonics in coordination, there is a shivery effect. Fleet melodic passages alternate with these passages of slowly evolving textures. In addition to these sections of close-spaced duets, there are also registrally distinct colloquies, where bass notes provide a pedal over which the second instrument deals with spectral overtones. Dovetailing howls then pursue one another, only to be succeeded by a low register duet. Detuned intervals, mostly in rhythmic unison, bring the piece to an evocative close.
Thunderous repetition of bass notes, followed by upper register multiphonics, provides a dramatic opening for the album closer, Μαύρο Φως/Dark Light for contrabass clarinet. Repeated notes in the bass become one of the principal gestures, as do trills, bent small intervals, and the aforementioned multiphonics. The sound of the contrabass clarinet is extraordinary: vivid and powerful. A brief disjunct gesture is interpolated with the aforementioned materials. This signature device of Chrysakis provides a post-tonal melodic foil to the effects-based writing. There's even a brief jazzy variant on the gesture. Sustained multiphonics return, crescendo and diminuendo shaping them to conclude the piece.
Milieu Interieur is a masterclass in clarinet writing and playing. I am eager to hear Alder play more. Performers, composers, and listeners should take note of it.
-Christian Carey