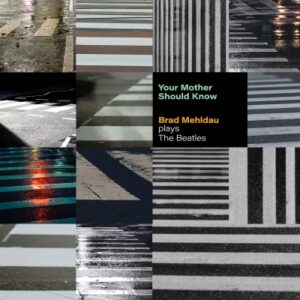 Your Mother Should Know: Brad Mehldau Plays the Beatles
Brad Mehldau
Nonesuch Records
Pianist Brad Mehldau is a chameleon-like figure, able to play music in many styles and a creative composer. He excels at finding new standards, recent pop songs that benefit from jazz treatment. The Beatles's songbook is among the most durable in the pop canon, having endured numerous revisionings, some inspired and, sadly, some insipid. Your Mother Should Know: Brad Mehldau Plays the Beatles is strongly inspired. 
A live recording that consists of ten Beatles songs and a David Bowie encore ("Life on Mars"), the audience is warmly enthusiastic. Other pianists who mine pop for new standards, Herbie Hancock, Ethan Iverson, and Christopher O'Riley to name just a few, each bring their own approach to the task. Often, the original's arrangement is discarded for flights of fancy. Mehldau sometimes stays true to the Beatles' recordings. I Am the Walrus' adheres to as much of the psychedelic bounty as two hands can manage. "For No One" is riff-filled during its instrumental breaks, but keeps true to the verse and chorus and its beginning and conclusion.
Elsewhere, Mehldau uses the songs as springboards for improvisation. "I Saw Her Standing There" is given a rousing rock 'n roll treatment with a bluesy solo. "Golden Slumbers" is adorned with post-bop riffs. "Your Mother Should Know" gets a swing shuffle treatment, while "Maxwell's Silver Hammer" sounds in places like Thelonious Monk has visited the stage. "Here, There, and Everywhere" is moving in its restraint, played by Mehldau with a rubato approach that begins true to the original, then adds modal jazz's parallel planing of chords and dissonant extensions that add surprise to the  tune. 
The Bowie encore is performed with poignancy alternating with virtuosic octave passages. Interestingly, instead of embellishing the chord structure, Mehldau strips out a few passing chords to keep the changes in a more Romantic vein. 
Above all, Mehldau displays curiosity and affection for the songs themselves. The Beatles will continue to inspire different approaches to their music. Future interpreters would do well to keep Your Mother Should Know in mind as a touchstone for how it should be done. 
-Christian Carey