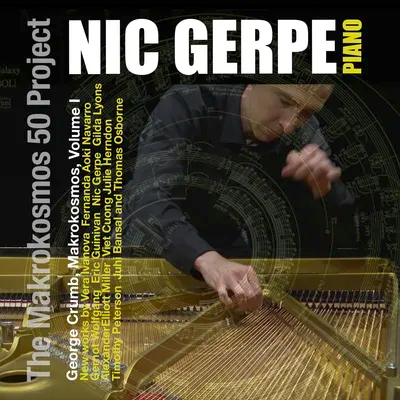 A new recording of the March 2022 performance by pianist Nic Gerpe of Makrokosmos Volume I, by George Crumb is now available for digital download. In 1972 George Crumb composed his Makrokosmos Volume I, a major 20th Century work for solo piano. To mark the 50th anniversary of this innovative piece, Nic Gerpe performed all twelve sections in concert on March 15, 2022. As Gerpe states on the website: "To celebrate the 50th Anniversary of its composition, I have commissioned twelve composers to each write a response to one movement of Crumb's original epic piece, to create a brand new celestial cycle." These new pieces are also available for download. The composers selected for this project were: Juhi Bansal, Viet Cuong, Eric Guinivan, Julie Herndon, Vera Ivanova, Gilda Lyons, Alex Miller, Fernanda Aoki Navarro, Thomas Osborne, Timothy Peterson, and Gernot Wolfgang.

George Crumb was an influential composer of piano music of the 20th century, winning the Pulitzer Prize in 1968. Makrokosmos Volume I is one of his most popular pieces. The use of amplification and a variety of extended techniques puts this work at the cutting edge of contemporary piano performance. Nic Gerpe has been a leading proponent in Los Angeles of the music of George Crumb for some time. In November 2019, Crumb's 90 birthday was observed by a concert by Gerpe that included A Little Suite for Christmas, A.D. 1979 as well as Makrokosmos Volume I. The March 2022 concert was intended to mark the 50th anniversary of Makrokosmos, but also became a commemoration of the composer, who had died just a few weeks earlier.

Even a casual hearing of the Makrokosmos suite is immediately understood by the listener to be breaking new ground. Crumb once explained that with Makrokosmos he intended to write "an all-inclusive technical work for piano [using] all conceivable techniques." The result is music that thoroughly defies conventional expectations for solo piano while remaining both accessible and compelling.

Makrokosmos, Volume I is subtitled Twelve Fantasy-Pieces after the Zodiac for Amplified Piano. This is organized in three sections of four short pieces, comprising about a half hour of music. Each piece is roughly based on the constellations of the zodiac but include evocative subtitles such as "Spiral Galaxy", "Music of Shadows" or "The Abyss of Time". The music is generally dark and other-worldly, employing such techniques as strumming the piano strings in the lower registers, plucking single strings or knocking on the piano case. All of this requires much adroit movement by the performer in and around the piano. Gerpe was equal to the challenge – there are no awkward pauses or hesitations in the flow of the sound. When notes were played conventionally from the keyboard, solitary phrases and quiet, slender melodies were heard. Although far removed from the familiar, Makrokosmos is powerfully expressive.

The companion pieces by twelve contemporary composers are fine examples of just how influential Mikrokosmos and the music George Crumb has become in the last 50 years. These new works are all similar in length and style to the Crumb originals and express a wide variety of feelings from engaging and bright to somber and frightening. The extended piano techniques were also used to full advantage in many of the new pieces, validating the distinctive expressive potential realized by Crumb. Perhaps the closest approach to the original Makrokosmos was Karkata, by Vera Ivanova, who employed the same radical imbalance between the keyboard and extended techniques. The result was a complex blend of plucked strings and keyboard notes that compared favorably with Crumb's more intense pieces.

Other pieces, like Alexander Elliott Miller's The Celestial Crown consisted of more conventional gestures with quiet, solitary keyboard notes. Miller's beautifully introspective melody line evoked a distant and lonely feel. Crumbling, by Fernanda Aoki Navarro incorporated lots of movement and crossing phrases in the keyboard that were filled with energy and abstraction. Aries, by Timothy Peterson began with a quiet tinkle of high notes from the keyboard followed by solemn chords and soft phrases in the middle register that invoked a mysterious and magical feeling. Deep chords then increased the tension and gave way to a turbulent finish. The innovative Crumb vocabulary for the amplified piano is highly original, yet was easily absorbed by each of the contributing contemporary composers.

Overall, this new Makrokosmos 50 recording combines the brilliant performances by Nic Gerpe of the piano music of George Crumb together with powerful examples of the influence this piece has had on contemporary composers. The Makrokosmos 50 project stands as a serious exploration of one of the landmark innovations in solo piano music.

Makrokosmos 50 is available at Bandcamp, Apple Music, Spotify and Amazon Music.