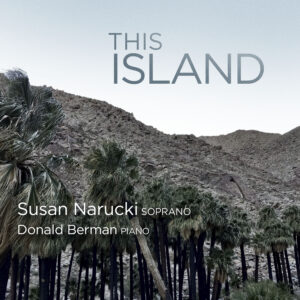 This Island
Susan Narucki, soprano; Donald Berman, piano
Avie Records
Soprano Susan Narucki has long been known as an advocate for contemporary music, as has collaborative pianist Donald Berman. On their latest recording, for Avie, the duo present a program of art songs by female composers active in the first half of the twentieth century. Three of the song sets are world premieres.
Narucki was inspired to begin collecting the songs for this recording by Rainer Maria Rilke. Specifically, in one of his letters he mentioned the Belgian Symbolist poet Émile Verhaeren, one of the most highly regarded poets of his country. After reading some of Verhaeren's poetry, and finding it captivating, the soprano set about looking for songs that employed it.
The program Narucki assembles uses Verhaeren as a focal point, though other poets are also included. The liner notes discussing the program are well-curated. I wish they were more legible in the CD booklet, but looking at them online allows an easier time reading Narucki's fine essay. Narucki and Berman are an excellent performing partnership. Both are fastidious in presenting detailed interpretations of art songs. At the same time, they are consummately expressive performers.
Belgian composer Irène Fuerison (1875-1931) created  an entire group of Verhaeren settings, Les heure claires, Les heures aprés-midi, Les Heures soire, Op. 50. The poet wrote dozens of love poems, and Fuerison selected from among these a half dozen that  celebrate long-lasting love. As with some of the other programmed composers, the influence of Debussy and Ravel looms large. Ô la splendeur de notre joie has a rhythmically intricate ostinato in the accompaniment and a juxtaposition of speech-like repeated notes and soaring melodies, rendered with considerable warmth by Narucki. 
Nadia Boulanger collaborated with her teacher Raoul Pugno on Les Heures Claire (1909), settings of Verhaeren from which Narucki programs four selections. After the passing of her sister Lili, Nadia gave up composition for teaching. Dozens of prominent composers studied with her, including a number from the United States. Still, it is unfortunate that she didn't afford herself the opportunity to compose more, as is made clear by Les Heures Claire. Le ciel en nuit s'est déplié is reminiscent of Gabriel Fauré's songs, with a dash of Debussy. Vous m'avez dit has a simply constructed yet lustrous melody. Que te yeux claire, te yeux dété features a number of modal twists and turns and a soaring vocal melody. The final song, Ta bonté, is slow paced and elegant, a touching close to an appealing song set.
Three songs from 1947 composed by Henriëtte Bosmans are settings of twentieth century Dutch poets Adriaan Roland Holst and J.W.F Werumeus Buning. Dit eiland features plaintive, angular singing and similarly wide-ranging lines in the accompaniment. After a passionate beginning, it ends in a hush with enigmatic harmonies. In den regen has an emphatic vocal line buoyed by a spider web of arpeggiations in the piano. Once again, Bosmans relishes pulling back the dynamics and pacing partway through, with supple singing and figurations returning as an echo in the piece's denouement. Narucki's pianissimo declamation is exquisite. In Teeken den hemel in het zand der zee, Bosmans uses whole tone scales and pandiatonicism in a gradual unfurling of the words, sumptuously expressed, over carefully spaced chords.
Elizabeth Claisse is an enigmatic figure, only known to have written 4 Mélodies in 1922-23. Despite Narucki's exertions, there doesn't appear to be anything known about her biography. Could it be a pen name? One wonders. It is a pity there isn't more of her work to sing, because this set of songs by various poets, while derivative, is quite well wrought. It begins with Issue, an Yves Arnaud setting that uses a few chromatic chord progressions that are proto Les Six. One hears Stravinsky's influence in the stentorian bitonal tremolando chords that open the third song, Philosophe, a setting of Franz Toussaint's troping of Keng-Tsin. The final song is the sole Verhaeren setting, Les Mendiants, of a piece with Poulenc. Berman's voicing of its darkly hued harmonies is particularly beautiful, and Narucki counters with richly colored sound.
The last group of songs are by Marion Bauer (1882-1955), who taught contemporary music at NYU and wrote one of the first books in English that discussed the Second Viennese School and other twentieth century composers. Milton Babbitt was among her students. She also spent a great deal of time in France, and the influence of French composers on her work is clear. Four Poems, Op.24 (1916) are settings of the American Symbolist John Gould Fletcher, whose evocative imagery is an excellent complement to Verhaeren's work. These were Bauer's first songs, yet they are artfully written. "Through the Upland Meadows" is a miniature drama that features several juxtaposed motives. Here as elsewhere, Berman's sense of pedaling and phrasing is flawless. Narucki explores a variety of dynamic contrasts and vocal colors that embellish the word painting. Her high notes, well-displayed here, are glorious. "I Love the Night" has a boldness that resembles an aria and includes a thrilling piano postlude. "Midsummer Dreams" uses the lilting 6/8 feel, like a boat on water, to create another vivid scene. "In the Bosom of the Desert" completes the recording with a song that begins slowly, with a high-lying emphatic vocal line, and then moves to a lyrical mid-tempo with the voice sitting in the middle register, performing parlando. The beginning melody returns, this time with an embellished modal  accompaniment. Bass octaves emphatically build to the song's climax, where Narucki performs the final high notes with glistening intensity.
This Island is extraordinarily well curated. One hopes it will engender further treasure hunts for forgotten female composers. Furthermore, the program eminently suits Narucki and Berman, both in terms of taste and temperament. It is one of the best recordings I have heard thus far in 2023.
-Christian Carey