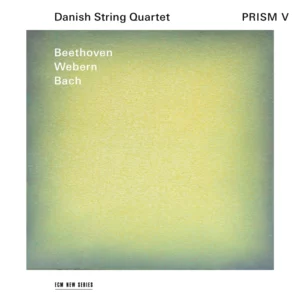 Danish String Quartet
Prism V
ECM Records
This is the last outing in Danish String Quartet's Prism series. Each of the five recordings has included a late Beethoven string quartet, a related Bach fugue, and a later work influenced by Beethoven. Prism V's program begins with "Vor deinen Thron tret'ich," Bach's chorale prelude BWV 668, arranged for string quartet. It also includes "Contrapunctus 14" from Bach's Art of Fugue, Anton Webern's String Quartet (1905), and Beethoven's String Quartet in F Major, Op. 135.
The performance of the chorale prelude is beautiful, played with expressive tone and ardent phrasing, with the Danish Quartet not pretending to be playing on period instruments. It is followed by the Beethoven quartet, the last piece he wrote in this genre and, indeed, one of the last he completed. Unlike the intensity found in some of the other late quartets, such as Op. 131, Op. 135 has a bright, often jocular, demeanor. The first movement, marked Allegretto, is full of puckish feints and gestures from classicism. The Vivace is a roller coaster of syncopations. Movement three, marked Lento assai e cantante tranquillo, is performed with luminous beauty, lyrical phrasing and timbral shadings underscoring its valedictory nature. The final movement incorporates the famous "Es muss sein" motive. The Danish quartet punctuates its appearances, underscoring the intensity of the sentiment to Beethoven. Despite the aging composer's struggles, there is a triumphant feeling that pervades the last movement, a valediction underscoring Beethoven's indomitability of spirit.
Webern's String Quartet (1905) is influenced by Beethoven to be sure, but there also is a palpable connection to Webern's mentor Arnold Schoenberg, particularly his groundbreaking work Verklärkte Nacht. Some of the harmonies and textures adopted by Webern also seem prescient to atonality, a musical scheme that would be explored in the next decade.
Contrapunctus 14 has three "soggetti," or fugal themes. The quartet takes it at a relatively slow tempo. Their blend as a group is well-known, and here it imparts tremendous clarity to the contrapuntal lines. This is the last section of the Art of Fugue, and Bach left it unfinished. The quartet doesn't adopt any conjectural completion, instead allowing the ending to break off abruptly. In addition to acknowledging Bach's mortality, perhaps on a personal level, this gesture signifies the Danish quartet's conclusion of the Prism project. It is an enormously fruitful collection of pieces. One waits with anticipation to see what the Danish String Quartet will next commit to disc. It will surely be as elegantly curated as the Prism series.
Christian Carey