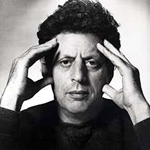 Anybody that dismisses Philip Glass' music has probably never tried to play one of his pieces.
I say this not as a reaction to
David's review
of the Anechoic Chamber Ensemble's concert of early Glass works last night--which certainly isn't dismissive--but rather in response to my own preparation of Mr. Glass'
Piece in the Shape of a Square
(1968), the first half closer on my February 16th Miller Theater recital.
Originally scored for two flutes, I decided to make a version for alto saxophone after being taken by a performance of the work on
an album by Alter Ego
. In concert I play the second part against a recording of myself performing the first part.
The work presents two major challenges to me as a performer. First, minimalist music takes an extremely high--almost superhuman--level of concertration. If my mind wanders for a split second, I risk loosing my place and being thrown off rhythm. Second, and more important to my health, is figuring out where to breathe. The music simply doesn't stop to allow me to do this. I've already struggled through two performances of the piece on the brink of asphyxiation by the end. Circular breathing, a possible solution in situations where taking a normal breath is impossible, is not an option in this piece. The constant syncopations and articulations leave no room for the technique.
So why torture myself? Well, it's not really torture. The piece is exciting and deserves to be heard. And the work's inherent difficulties only add to its excitement in performance.