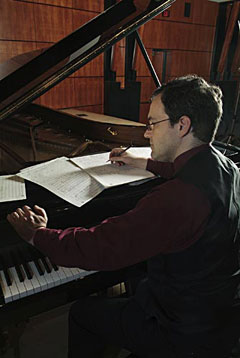 First Jeff Harrington, then David Salvage, and now our very own Lawrence Dillon is feeling some end-of-the-season love on the concert circuit.  This very evening (Thursday), at the Spoleto Festival in Charleston, South Carolina,  violinist Piotr Szewczyk will perform Lawrence's Mister Blister and a movement from Fifteen Minutes as part of his Music in Time – Violin Futura program.  Szewczyk will also perform works by Mason Bates, Moritz Eggert, Daniel Kellogg, Jennifer Wang, and others as part of this program of new, short, innovative solo violin pieces.
And, on June 15 at the International Double Reed Society Conference in Ithaca, New York, bassoonist Jeffrey Keesecker will perform Dillon's Furies and Muses, joined by violinist Susan Waterbury and Jennifer Reuning Meyers, violist Melissa Stucky and cellist Heidi Hoffman. This is part of a special series of bassoon performances featuring Contraband, Lorelei Dowling, Terry Ewell and Arlen Fast. The concert is free and open to the public. For more information, contact the IDRS or call (607) 274-3717.  
Anybody doing anything interesting this summer.  Festivals? 
Want to try your hand at being the front page blogger of S21 for a week?