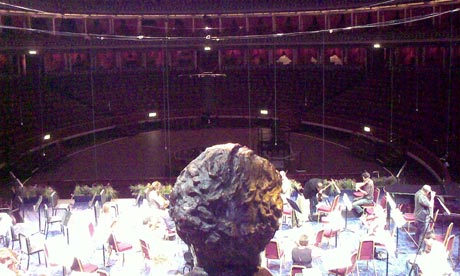 In Live From Golgotha by Gore Vidal, St. Timothy — who is an old man, and by that time the keeper of the story of the early church — is visited by time travelers from the future who try to persuade him to change his story. When he refuses, they simply travel further back in time and change the events. At one point Timothy is perplexed because he thinks he remembers what happened but he isn't sure, which isn't surprising since the actually events and, consequentially, events after those events, have been changed. His past — what he remembers — is different from what is now the actual past, and the present is also changing as the time travelers from the future continue to change the past. At least that's how I remember it, but the specific details are not so important.
When I read the book I was struck by the fact that such a complex time situation was not problematic in what was essentially popular fiction, whereas some similar complexity of the perception of time in a piece of music would probably mark it as being a hopelessly esoteric and certainly inaccessible. I'm not sure why it is that that's the case, but it came to mind during the late night Prom concert of music by Philip Glass. Richard Taruskin points out, in The Oxford History of Music that one of the main purposes of the early minimalists was to make sure that there was no hidden form in their music, that everything was audible and perceptible on the surface. This obviously gets a ways from a certain sort of pretentiousness and from some arcane justification of music that isn't very much fun to listen to, or just plain doesn't make sense, but it can also give works written that way a certain kind of flatness, and give the sense that the continuity of a piece is, in the words of one of the characters in The History Boys, "just one fucking thing after another."
The program for the August 12 Proms, presented by the BBC Scottish Symphony Orchestra and Chorus, conducted by Dennis Russell Davies, with Gidon Kremer as soloist, consisted of two works of Philip Glass: his Violin Concerto and his 7th Symphony ("A Toltec Symphony") . The Violin Concerto, written in 1987 for Paul Zukofsky, is one of Glass's most popular pieces. It has three movements, fast, slow, fast, with a slower coda. Although Glass was quoted in the program notes as saying that he was trying to write a piece that his father, who loved all the major violin concertos, would like, it is, in the manner of Glass's music, not melodic or thematic but rather based on shorts riffs which are developed, mainly through repetition. The second, in fact, is a baroque-y ground piece, with a clear line (melody, if you like) which is repeated many times. It is impossible to miss the masterly quality of the work or to be impressed by it. Its orchestration is striking and masterly; the violin is never covered by the orchestra. The first movement especially is haunting and its ending is very beautiful. I found myself before it was over wishing that there was a little more to listen to. One shouldn't judge a piece by criteria that are not operative for its language and methodology, but it's hard to imagine by what standards the second movement wouldn't be too long.
The 7th Symphony is a celebration of the ancient Mexican Toltec civilization and its wisdom. Its three movements evoke the three main elements of its religious practices, identified in Robert Maycock's program notes as the corn goddess, the hallucinogenic and medicinal peyote root, and the symbolic holder of the book of knowledge. The first movement is gently lovely and appealing, and seems to be constructed in a rather old fashioned manner; the second is of mind-numbing length and changelessness, featuring a large chorus singing nonsense syllables transcribed from a recording Glass made of an old man singing in the Mexican mountains over and over again; the third extend in waves material always returning, after a silence to a common motivic starting point. The playing throughout was faultless and beautiful and had an level of concentration and commitment which was palpable and admirable.
There are interesting points of commonality between Glass's Violin Concerto and the 'Cello Concerto of Unsuk Chin, which was given its first performance by Alban Gerhardt with the BBC Scottish Orchestra conducted by Illan Volkov, on the Prom on August 13. Both are athematic, both are masterly in their writing for the orchestra, both are appealing pieces, in both the first movement is the most successful part, and both, in other movements, have miscalculations of lengths. A listener might in both wish for a little more to listen to (although the same listener might not have that reaction to both of the pieces). The continuity of the Glass, however, is mostly sequential, whereas that of the Chin is more narrative and cumulative. The texture of the Chin is more transparent, mecurial, and scurrying. Its language might be described as European mainstream modernist, although it clearly evokes p'ansori, a Korean dramatic narrative form involving alternating singing and highly stylized spoken sections. Its first movement, whose beginning, expanding out from a repeated single note, was particularly striking, is entitled Aniri, which is the name for those singing portions.
The rest of the concert consisted of La Valse by Ravel, which seems every time I hear it to be a stronger, more beautiful and impressive piece (the writing for the bass clarinet seemed particularly striking and impressive this time), and The Rite of Spring, which even in this performance, which was peculiarly low-energy, packed a punch. (Incidentally, anybody who hasn't seen Nijinsky's original choreography should check it out, as reconstructed by the Joffrey Ballet on Youtube. You could also check out the BBC dramatization of the first performance, called Riot at the Rite, also on Youtube).
Both these concerts are available for listening on the Proms website for a week after the performance.