---
Lee Hyla:
An American Original
---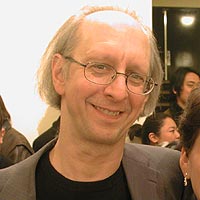 Miller Theatre at Columbia University NYC. presented the second concert in its Composer Portraits series on October 23 featuring the music of composer Lee Hyla.
by Duane Harper Grant
---
Lee Hyla, the American composer who lives now in Boston is as brilliant as he is unknown outside new music circles. At the age of fifty, he is going strong, utterly captivated with music and with his work as a composer and yet, it must also be noted, not yet the recipient of the resounding recognition as a truly great composer on the world scene that he deserves.

Hyla is somewhat of an enigma in that he doesn't fall neatly into any category or school of the modern/new music movement and seems not to really need to do so. He lives in the eclectic American music landscape that encapulates everything from pure classical forms to punk rock and what sounds like--but isn't--free form jazz. He seems to thrive on contemporary music scene's terrain, its liveliness, its expansiveness, its inexhaustiveness. Think Eliott Carter meets
meets Cocteau Twins meets Cecil Taylor and Steve Lacy He uses it all and synthesizes a sound and a content that is unique and completely his own.

The concert featured the composer/musician collective, counter)induction which played the sometimes very challenging music seamlessly and expressively. Their brilliant pianist Blair McMillen was featured in several pieces including a witty "Wilson's Ivory-bill" for baritone, piano and an old, scratchy field recording of the squawks of an ivory-billed woodpecker. The text, cantored bravely and sure by bass-baritone Robert Osborne, is taken from the journals of the 19th-century ornithologist Alexander Wilson.

The program included two other works: "The Dream of Innocent III" (1987) and "Pre-Pulse Suspended" (1984). These two pieces comprised the second half of the program and while the first half was formidable with the aforementioned "Wilsons.." and the Concerto No: 2 for Piano and Chamber Orchestra, the second half of the program was even more enjoyable for me. For one thing, the audience was more tuned in and quieter. Hyla abruptly shifts directions in ways where the relationship between adjacent sections of music aren't always immediately obvious. This is music that requires close listening but it is also music that rewards its listener with a sense of elegance and breadth. Ideas and gestures flow, They evolve and they make sense. In "The Dream Of the Innocent Child" for instance, a solo cello is flanked on either side by cacophonous percussion; a drum set on one side and a percussive piano on the other, both launching their consorted rhythmic salvos while the lone cello riffs away melodically and sweetly in the
middle.

counter)induction, now in its fifth year,
played really, really well. They are a composer/performer collective committed to the notion that contemporary music can and should be both accessible and challenging. c)i celebrates the diversity of contemporary music by presenting the best, most innovative new music to all audiences, new and experienced. They were led by Jefffrey Milarsky, who did a splendid job of keeping that boat on course in sometimes choppy waters.

Hyla's small compositional output suggests that he is a perfectionist, an impression bolstered by the fact that each of his pieces is meticulously constructed. He is a truly an original composer whose work deserves much greater recognition and respect than he has gotten so far. Reese Cups for the Miller folks for including him in this prestigious series.
Composer Portraits
Lee Hyla
Saturday, October 23
---
PRICING THEMSELVES OUT? A crew from Deutsche Grammophon was in Boston this week to record Andre Previn's new violin concerto with the Boston Symphony Orchestra. In years past, this wouldn't have been unusual, but in today's music world, big labels rarely record American orchestras. T.J. Medrek asked DG's top man if the Previn recording could signal a turnaround, but the answer, in a word, was no: "It always comes back to money. I think when the (musicians) unions of this country decide that they have overpriced themselves and that it would really make sense to renegotiate terms in order to make more recordings, then I think we (DG) would be the first ones who would be there." Boston Herald 11/01/02

NEW DEAL OPERA: Opera is drawing big crowds in America, new operas are finding performances and innovation seems to be in the air. "Is America about to put its own, contemporary stamp on opera, that centuries-old import from Europe? Maybe. While it may be too much to call this burst of activity a trend toward 'Americanizing' opera, it's certainly a sign of life, and that's enough to get opera enthusiasts cheering." Christian Science Monitor 11/01/02

WELL, NOT TOO NEW: Innovation is all well and good, but the staples of the operatic repertoire are still the most popular draws at most North American opera companies. A new survey by Opera America finds that Puccini's La Boheme is the most oft-produced show on the continent, with 27 separate productions scheduled for this season, and 207 since the 1991-92 season. Andante (AP) 11/01/02

WHEN MUSIC REALLY MATTERED: There was a time, at the turn of the 19th Century, writes Michael Tilson Thomas, that music "was the only art form where, in real time, one could take in the vast experiences that we think of now as being in the realm of cinema - experiences on the scale of invasion, tempests and geological cataclysms." The Guardian (UK) 11/01/02

THE DEATH OF THE AUDIO CASSETTE: The audio cassette is for all intents dead. "The end, on some strange and intellectually picky level, of the crucial dialectic between Side A and Side B, and the idea that songs talk to one another and take you someplace. Is the death of the cassette as sweetly sad as the death, years ago, of the vinyl record? No, the professor sighs. Well, maybe yes. 'It's a mixed romance'... Washington Post 10/29/02

THE PROBLEM WITH SYMPHONY ORCHESTRAS: Symphony orchestras across America are struggling with money (or rather, a lack of it). "What's the problem with classical music? As it turns out, all unhappy symphony orchestras are unhappy in their own way, but the answer is surprisingly consistent. "It really is 'the economy, stupid.' It's affecting all those revenue sources - especially corporate, foundation, government and individual donations - that are crucial to an orchestra's bottom line." Los Angeles Times 10/29/02

PLOT PROBLEM: Why are opera stories often so ridiculous? When one thinks of all the effort that goes into composing and producing an opera, it seems odd that plots are often so ludicrous. But many are classic stories, and "some stories grow over centuries - each new generation's projections and alterations ripening them until, eventually, they become mythic. With each successful retread, a story will gain in resonance and meaning - reinforcing its power to move and inform us." The Guardian (UK) 10/28/02

PLANS FOR COPENHAGEN'S OPERA HOUSE IN DISPUTE: Plans for Copenhagen's new Opera House were unveiled last week, but Henning Larsen, the project's architect, wasn't present for the event after apparent disagreements with the owner about what the project would look like. "It's an embarrassing situation at the moment, and it would be sad for Copenhagen if Henning Larsen resigned from the opera house project. I can't even bear the thought. It would be like the Sydney Opera House all over again." Copenhagen Post 10/25/02

Last Week's News

---
Record companies, artists and publicists are invited to submit CDs to be considered for our Editor's Pick's of the month. Send to: Jerry Bowles, Editor, Sequenza 21, 340 W. 57th Street, 12B, NY, NY 10019 Also, feel free to nominate your favorite composer-- even if it's you--for Spotlight of the Week.
---
---
Let Us Now Praise Philadelpha.
No, Seriously.

---
When it comes to classical music, Philadelphia is the Rodney Dangerfield of the arts world. It "don't get no respect." This is odd perception since the hometown of the Liberty Bell has produced more than its share of composers who have heavily influenced the development of modern music and no shortage of local supporters. When Leopold Stokowski was conductor of the Philadelphia Orchestra, his response to the booing of modernist composers work was to play the work over again.

The Philadelphia Chamber Music Society is on a mission to change that perception and has enlisted the aid of six local ensembles and 15 guest artists and groups to create a six-concert Festival of Philadelphia Composers that runs from tomorrow (Tuesday) through November 24.

Among the 17 composers represented, nine have won the Pulitzer Prize (well eight, technically speaking, the Pulitzer committee took Ralph Shapey's away at the last minute.)

The University of Pennsylvania, Temple University, and the Curtis Institute of Music have all been home to such luminaries as Samuel Barber, George Crumb, George Rochberg, and Jennifer Higdon. In addition, the city has attracted a lot of European-born transplants, including Stefan Wolpe, Lukas Foss, Bernard Rands and Leo Ornstein.

Unlike the Lincoln Center Chamber Music Society's highly-successful festival of New York composers last season, Philadelphia's version doesn't attempt to be comprehensive. The programs evolved from a master list of composers and pieces that the chamber music society's founder, Anthony P. Checchia, assembled after consulting with local critics and musicians.

The perfomers for the six concerts will be Peter Serkin, Marcantonio Barone, Hyunah Yu and the Brentano String Quartet; Network for New Music; Colorado and Miami Quartets with Ignat Solzhenitsyn; Orchestra 2001; Settlement Contemporary Players, and Juilliard and Chicago Quartets with Marc-André Hamelin.

For a complete schedule, go HERE
DECONSTRUCTING BOULEZ
---
Edit Note: The following e-mail turned up in our inbox. We are publishing it as a public service to those who don't like Pierre Boulez and, perhaps, are just a little mad at the French. JB
Hello. My name is Josh Ronsen and I am a Mail Artist and musician living in Austin, Texas. I have embarked on a long term collaborative project that I have been calling the Pierre Boulez Project. Years ago, French composer and conductor Pierre Boulez wrote that _All art of the past must be destroyed._ Before and since writing that statement, he has made a living in presenting many art works of the past, from Handel to Wagner to Stravinsky. In my project, I am collecting recordings of Boulez_s work as a composer and a conductor. Once I have assembled a sufficient number of recordings (and books and scores), my comrades and I will destroy them through various means in a performance creating a new work of art of the Present.
I ask that you submit any unwanted Boulez recordings to my project. I will duly credit all submissions on my web site and as well as the programs and final documentation of the project. If you wish, I can keep your donation anonymous.
Please see the Pierre Boulez Project web site. You will find a list of current contributors as well as the most comprehensive index (in English) to online information about Boulez, including links to a number of interviews with him. An article about my Mail Art activities can be found online.
If you wish to receive future updates about this project, please email me at jronsen@flash.net If you would like a color flyer to post at your local record store/music department/hang-out, email me and I will send you one.
I thank you for your time,
-Josh Ronsen
PO Box 7896
Austin, TX 78713
USA
---
Classical Grammy Winners
---
Previous Interviews/Profiles
Simon Rattle,
Michael Gordon,
Benjamin Lees,
Scott Lindroth,
David Felder,
Mark-Anthony Turnage,
Erkki-Sven Tüür,
John Luther Adams,
Brett Dea
n,
Judith Lang Zaimont,
Meyer Kupferman,
Evan Chambers,
Poul Ruders,
Steven R. Gerber,
Gloria Coates
Previous Articles/
Busoni The Visionary
The Composer of the Moment: Mark-Anthony Turnage
Electronic Music
Voices: Henze at 75
Henze Meets Emenim
On Finding Kurtag
Charles Ruggles: When Men Were Men
Ballet Mécanique
The Adams Chronicles

---