"Swales and Angels"
---
The Music of Beth Anderson
by Karen Sharf
The spectacular Belgian Rubio String Quartet performed a series of beautiful single movement string quartets by Beth Anderson called "Swales and Angels" at Carnegie Hall's Weill Recital Hall. They were joined by seven musicians to create a quintet and two septets.
The New York based composer, originally from Kentucky, has written about her use of the title Swale in so many of her works, "A swale is a meadow or a marsh where there is nourishment and moisture and therefore, a rich diversity of plant life. My work, since 1984, has been made from swatches (of newly composed music, rather than found music) that are reminiscent of this diversity. When a horse named Swale won the Kentucky derby in 1984, I discovered the word and have used it extensively: 'Minnesota Swale' for orchestra, 'May Swale' for viola solo, 'April Swale' for viola and harpsichord, 'August Swale' for woodwind quintet, 'September Swale' for guitar and mandolin duet, 'Brass Swale' and 'Saturday/ Sunday Swale' for brass quintet, 'Cleveland Swale' for two string bass and piano, 'Toledo Swale' for two violins and soprano saxophone, 'Rhode Island Swale' for harpsichord, and the most recent, 'Three Swales' (Kentucky, Bluebell, and March), 'June and July Swales', and 'Mourning Dove Swale' all for string orchestra."
The Rubio opened the concert with "Pennyroyal Swale" which was composed in 1985 and dedicated to James Roy, past head of the concert division of B.M.I., in gratitude for his dedication to assisting women composers, a cause close to Ms. Anderson's heart. The composer described it as combining folk-related vernacular music with 'classically' developed techniques in an open, somewhat repetitive form.
There was such a feeling of Kentuckiana in this piece that Mark O'Connor's following might enjoy this quartet. Like O'Connor, Anderson has absorbed many influences from a variety of musical styles and genres and has shaped these influences into a new American classical music.
Next up was "Rosemary Swale" a piece from 1986. This quartet was full of important inner parts, 5/4 meter, and a beautiful cello solo that contained echoes of shape-note singing. Anderson studied with John Cage and Terry Riley and their separate influences are apparent in the cutups (as in Cage's "Radio Music") and in the bright colors of the harmony.
Next on the program was "New Mexico Swale" for flute/piccolo (Andrew Bolotowsky), percussion (David Rozenblatt), violin, viola, and cello. Anderson composed this eclectic piece in 1995 to express a variety of styles that were descriptive of the diverse regions and people of New Mexico. It began with string octaves under a guiro followed by a spring drum that created a sense of wind across the desert.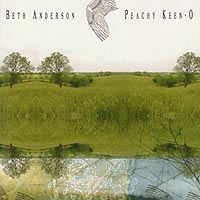 Peachy Keen-O
Composer: Beth Anderson
Performer: Linda Collins , Kitty Mraw , Ana Perez , Marjorie Anderson , Wharton Tiers, Michael Blair. Beth Anderson
Pogus
Boosey And Hawkes Sold "Music publishers Boosey and Hawkes, home to the estates of Stravinsky, Britten, Strauss, Prokofiev and Rachmaninov, is to be bought by the venture capitalists HgCapital - meaning it will remain independent, at least for now." The Guardian (UK) 11/25/03

Met Opera To Take A Midwinter Nap Ticket sales at the Metropolitan Opera haven't been great in recent years during the weeks following the Christmas and New Year's holidays. So the Met has announced that it will be taking a two-week break in the middle of its season, beginning in January 2004. "This will be the first midseason break since the Met began in 1883," and it may not be the only change the company makes to its schedule. Executive director Joseph Volpe says that the Met is also considering replacing its Monday night performances with Sunday matinees. Newsday (AP) 11/24/03

Big Instruments Down Some of the bigger orchestral instruments are so unpopular with young Britons, that there's a big shortage of players opening up. "It seems that the tuba, bassoon, double bass and trombone are too ugly and expensive for a new generation of teenagers who, if they like classical music at all, prefer the charms of the flute and clarinet. The result, according to the some of the country's leading instrumentalists, is that Britain's bass line is in danger of fading out." The Guardian (UK) 11/26/03

Symphony-Sur-Jumbotron Pop concerts have employed jumbo video screens at performances for years. This year the Vancouver Symphony is trying them out - "four remote-controlled video cameras strategically positioned in the hall, used to "simulcast" performances on screens measuring 2.2 by 2.7 metres, to the left and right of the stage." The Globe & Mail (Canada) 11/24/03

Lloyd Webber To Buy Warner Chappell? Composer Andrew Lloyd Webber is apparently going to try to buy Warner Chappell, the music publishing business of Time Warner. The company is valued at about $1 billion. "Andrew is seriously interested. He is confident he can get a consortium together."
BBC 11/27/03

Mao's Greatest Hits For the 110th anniversary of Mao Zedong's birth, Chinese officials are releasing an album of great songs by the former Communist leader. The songs have been re-recorded, one even remade as a rap. "Ten years ago, the album 'A Red Sun' brought a crimson tide of songs rushing through our music industry. This year ... the China Record Company has finished the production of the powerfully red 'Mao Zedong and us'." BBC 11/28/03

Harlem Boys Choir In Trouble The famed Boys Choir of Harlem has declared a financial emergency after corporate and individual donations have fallen dramatically. "Everybody thinks we must be rich. Well, we're not. This is the worst time period in our 35-year history." New York Daily News 11/28/03

NY Phil: Looking To Future Talent David Robertson conducts the New York Philharmonic. So? There is a sense that younger conductors are being given chances to work with the orchestra with an eye to the future. "To the credit of the current music director, Lorin Maazel, the orchestra has done a much better job of introducing promising younger conductors — and potential successors — to its podium, musicians like Robert Spano and Alan Gilbert, as well as Osmo Vanska and Gianandrea Noseda, who made their debuts recently." The New York Times 11/28/03

Homeless Stage Opera An opera production produced by homeless people has been staged in Oxford. ""The charity behind the project, Streetwise Opera, helped train volunteers to sing, perform and develop theatre skills. Professional opera singers joined them for last night's production at New College, which was sold out. The show's director, Matthew Peacock, said he hoped the music boosted the confidence of the homeless people involved and would help them in life." BBC 11/29/03
Last Week's News

---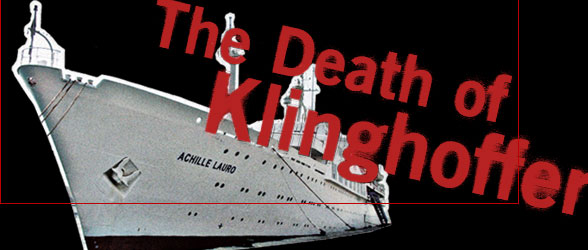 The Death of Klinghoffer
Staged concert version
Music by John Adams
Libretto by Alice Goodman
Brooklyn Philharmonic
Conducted by Robert Spano
Directed by Bob McGrath
Produced in association with Ridge Theater
VENUE
BAM Howard Gilman Opera House
DATE/ TIME
Dec 3, 5 & 6 at 7:30pm
---
Adams' Klinghoffer
Returns to BAM

"It was just after 1:15." This outwardly mundane refrain, sung with great poignancy by the ship's Captain in John Adams' moving and controversial The Death of Klinghoffer, chronicles the moment in 1985 that Palestinian hijackers seized the cruise ship Achille Lauro, terrorizing its passengers and crew for two days and murdering the wheelchair-bound American Jew, Leon Klinghoffer.

When the opera premiered in the United States in 1991 it generated tremendous controversy. At one extreme, it was denounced as unabashedly Pro-Palestinian - at the other, it was called a Zionist plot.

In this staged concert version of the 1991 opera, which premiered at BAM just as the first Gulf War was ending, the tragic events come to vivid life through a prismatic mix of historical narrative, recollections, and commentary. Performed by Robert Spano and the Brooklyn Philharmonic, and directed with a delicate balance of boldness and restraint by Bob McGrath of the New York-based Ridge Theater, Klinghoffer opens with a stunning prelude during which two choruses, one representing exiled Palestinians, the other, exiled Jews, establish the music's daring complexities.

Like Adams' first opera, the politically astute and melodically luminous Nixon in China (1987/1999 Next Wave), Klinghoffer is both musically lush and rife with risky observations and symbolism. And given this singularly fraught time in our own history—as illustrated by the capture of the architect of the Achille Lauro hijacking plot this April—it continues to stand out as a prescient, even audacious, work.
---
Previous Interviews/Profiles
Simon Rattle, Michael Gordon,Benjamin Lees, Scott Lindroth, David Felder, Mark-Anthony Turnage, Erkki-Sven Tüür,John Luther Adams, Brett Dean, Judith Lang Zaimont, Meyer Kupferman, Evan Chambers, Poul Ruders, Steven R. Gerber, Gloria Coates, Tobias Picker
Previous Articles/
Busoni The Visionary
The Composer of the Moment: Mark-Anthony Turnage
Electronic Music
Voices: Henze at 75
Henze Meets Emenim
On Finding Kurtag
Charles Ruggles: When Men Were Men
Ballet Mécanique
The Adams Chronicles
---
What's Recent
An Interview with Tobias Picker
Handmaid Tale's Debuts in English
Rautavaara Joins B&G
Who's Afraid of Julia Wolfe
Derek Bermel's Soul Garden
The Pianist: The Extraordinary
True Story of Wladyslaw Szpilman
John Adams' Atomic Opera
A Bridge Not Far Enough
Turnage Signs With B&H
Sophie's Wrong Choice
Copland's Mexico
On Being Arvo
Rzewski Plays Rzewski
Praising Lee Hyla
David Lang's Passing Measures
Three Tales at BAM
Naxos at 15
On the Transmigration of Souls
Dead Man Walking
David Krakauer's The Year After
Steve Reich/Alan Pierson
Record companies, artists and publicists are invited to submit CDs to be considered for our Editor's Pick's of the month. Send to: Jerry Bowles, Editor, Sequenza 21, 340 W. 57th Street, 12B, NY, NY 10019
Our writers welcome your comments on their pieces. Send your witty bon mots to jbowles@sequenza21.com and we might even publish some of them here. And, don't forget--if you'd like to write for Sequenza21 (understanding that we have no money to pay you), send me a note. JB