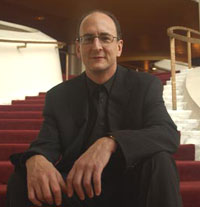 If there were ever any doubt that Peter Gelb, the new director of the Metropolitan Opera, had big plans to turn the venerable company into a glitzier, more populist experience, there isn't any more. 
The New York Times reports this morning that the Met will simulcast the opening night "Madama Butterfly" gala on September 25 on the Panasonic jumbo screen in Times Square. Traffic will be closed between Broadway between 42nd and 45th Streets to make room for 650 cushioned seats and standing room for the performance, which will be blared to the large tin can that is Times Square on giant speakers.  Goodbye amplification purists; hello power chords.
The Met also plans to broadcast the performance on a large screen in the Lincoln Center Plaza. Tickets are free but you will need one.  You'll also get a look at another Gelb innovation–the celebrity red carpet where news personality Daljit Dhaliwal will conduct Joan Rivers-style interviews with such well-known opera lovers as Goldie Hawn, Sean Connery, Al Roker, the formerly fat weather man from the Today show, and Tony Soprano.   
The news comes on the heels of last week's announcement that the Met will begin broadcasting live performances into movie theaters across the United States, Canada and Europe.
Gelb calls these initiatives "building bridges to the broader public."  Color me skeptical but (snarky tone aside) I'm willing to give him the benefit of the doubt.  The folks in the family circle (myself included) are beginning to look a little long in the tooth.