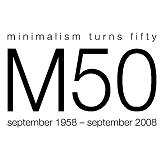 This September marks the 50th anniversary of musical Minimalism, an artistic revolution which critic Kyle Gann has described as "the most important musico-historical event of my lifetime." I'm delighted to announce that Sequenza21, in collaboration with the exciting new concert series Music On MacDougal, will be celebrating this important milestone with a concert of early Minimalist music.
When: September 17th, 2008 at 8:00 PM
Where: The Players Theatre, in Greenwich Village, Manhattan
115 MacDougal Street, New York, NY 10012
Tickets: By Phone: 212-352-3101 or Online.
Program:
Steve Reich — "Piano Phase" (1967) (Version for two Marimbas)
Philip Glass — "Piece in the Shape of a Square" (1967)
Terry Jennings — "Piano Piece" (December 1958) and "Piano Piece" (June 1960)
Intermission
Terry Riley — "In C" (1964)
We know that this September is the fiftieth anniversary because in September of 1958 La Monte Young completed his "Trio for Strings," which is generally regarded as the first true Minimalist piece. Young is arranging for a performance of the Trio later in the season, and our concert is focused on representative pieces from the first 10 years of the movement. "Piano Phase" is arguably the high point of Reich's use of phasing, and a perfect example of his "music as a gradual process." "Piece in the Shape of a Square" illustrates Glass's early interest in additive processes. "In C" represents the arrival of the pulsating, repetitive, tonal Minimalism which has dominated the genre ever since.
In some ways the most exciting pieces on the program are the early "Piano Pieces" by Terry Jennings. Jennings (who died tragically in 1981) was the first composer to understand what Young was doing and to follow in his footsteps, and in December 1958, a mere two months after Young completed the "Trio for Strings," eighteen year old Jennings wrote the first of three "Piano Pieces." We're presenting the first two of these pieces, which we believe haven't been performed publicly since 1989.
This concert is also the inaugural concert of the Players Theatre's hot new concert series "Music On MacDougal." Curated by pianist Sheryl Lee, Music On MacDougal promises to become one of New York's most interesting presenters of new music–classical and otherwise. This season's lineup includes the DITHER Electric Guitar Quartet, Mantra Percussion, Moet, Newspeak, Grenzenlos, Matrix Music Collaborators, and others. The full season schedule can be found here.
The M50 concert has been sponsored in part by a generous contribution from Cold Blue Records. The performers are a veritable who's who of hotshot New York musicians. The current lineup (subject to a few changes) is Mike McCurdy (Percussion), Jessica Schmitz (Flute), Elizabeth Janzen (Flute), Joseph Kubera (Piano), Dan Bassin (Trumpet), George Berry (Trombone), Sila Eser (Viola) Gillian Gallagher (Viola), and Adam Havrilla (Bassoon).
This concert is, to the best of our knowledge, the only concert celebrating this important anniversary, so you won't want to miss it. See you in September!