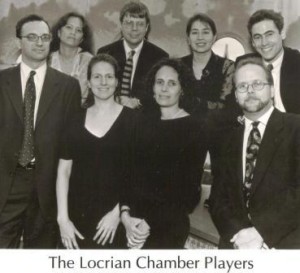 Have you heard the Locrian Chamber Players yet? If not, you're missing out. The group has a unique mandate: they only play pieces less than a decade old. This results in stimulating, varied, and stylistically catholic programs.
With members that include some of New York's finest performers of contemporary music – pianist Emily Wong, flutist Diva Goodfriend-Koven, and violinist Calvin Wiersma among them – the music is exquisitely well-prepared. Admission: FREE.
Locrian's next show is this weekend, Saturday, January 31 at 8 PM, 10th Floor Performance Space, Riverside Church, and features these works:
Milton Babbitt: Little Goes a Long Way
Earle Brown: Special Events
Nils Vigeland: Aurochs and Angels
David Dzubay:  Kukulkan
To reach Riverside Church by subway, take the 1 or 9 train to 116th street. By bus, take the M4 or M104 to Broadway and 120th Street. Enter Riverside Church at 91 Claremont Avenue (one block west of Broadway, between 120th and 122nd streets). Parking is available at the Riverside Church garage, located at 120th Street and Riverside Drive.