From Sarah Baird: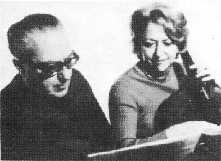 Aurora Natola-Ginastera, internationally renowned cello virtuoso and wife of the late composer, Alberto Ginastera (1916-1983), passed away on Sunday, January 25, in Geneva. She was 85 years old.  (Alberto wrote his second Cello Concerto for her, at least. What would our repertoire look like if not for composers in love?! ) The funeral information follows. All best. ~ Sarah
Ceremony, followed by burial:
Tuesday, Feb 3, 10 a.m. / Eglise St-Joseph / Rue Petit-Senn / 1207 Geneva
Burial:
Cimetière de Plainpalais / Rue des Rois 10 / 1204 Geneva
JB Note: Valentine's Day is not that far away.  Good time to discuss great music inspired by love.