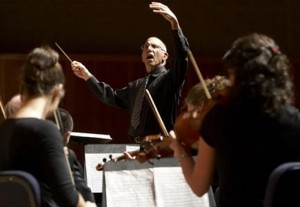 While well-known for his writings about music, including books about Elliott Carter and George Gershwin, David Schiff is also a prolific and active composer. A professor at Reed College, he's visiting New York this week to hear the American Composer's Orchestra premiere a revamped version of Stomp, a piece that celebrates the music of James Brown. The concert, part of the Orchestra Underground series, also includes premieres by Margaret Brouwer and Kasumi, Rand Steiger, Fang Man, and Kati Agócs.
 Carey: Stomp was written in 1990 for Marin Alsop. How did you decide to write in homage to James Brown?
Schiff: I was asked for a concert opener and somewhere in the process I realized that one of my rhythmic motives was from James Brown's "I Feel Good" (as recorded Live at the Apollo). I then re-conceived the piece as a tribute.
Carey: Have other rock or jazz legends figured in your music?
Schiff: There's a big Motown section in my Scenes from Adolescence (1987) and my Slow Dance for orchestra (1989), written for the Oregon Symphony, has a lot of Charles Mingus in it, but I have also had the great honor of working with two living legends in jazz, Regina Carter and Marty Ehrlich.
Carey: What's "re-lit" about this new version for the ACO?
Schiff: ACO asked me to reduce the size of the orchestra slightly to fit in Zankel Hall. This gave me the opportunity to re-score the entire piece. The wind section now is much better suited to the style of the piece: flute, E flat clarinet, two saxes, trumpet horn, trombone and tuba. But there are also a lot of musical changes everywhere. I think that in the years since I first wrote Stomp I have become more experienced with the style. The new version is much hotter than the original–even though the orchestra is smaller.
Carey: You're currently at work on a book about Duke Ellington. Is that research infiltrating your composing at all?
Schiff: Ellington's music influences everything I do. I go to school with his music every day and I find his melodies, rhythms, harmonies and instrumentation endlessly inspiring.