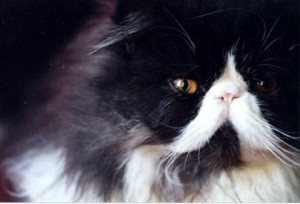 There are beings that are just too special for this world. They arrive, fully-formed, on the messy little stage of your life and immediately dazzle you with their stunning beauty and charisma and goodness. They capture your heart so completely that you are always a little fearful that something this perfect cannot last. Howard arrived in our household eight years ago, at a time when we were still mourning the loss of a previous companion. By the second day, previous cats were forgotten. He seemed to have two speeds—full and stop—careening around our apartment and crashing into furniture like a furry bowling ball. As an adult, he slowed down, but not much. "He's never going to be an elder statesman," my wife would often say and something inside me sank each time. He could have been a contender on the show cat circuit but he chose to be our best friend, a lovable maniac, a love sponge who could never have his ear rubbed quite enough and a complete nudge, which is Yiddish for charmingly demanding. He talked a lot; there were things he wanted to say. He was  a gentleman, incapable of getting angry or biting or scratching anything except his own furniture. In short, he was perfect.
On Tuesday morning, he came and sat with us on the floor in front of the TV as we read the morning papers and watched the news. As usual, he planted himself on my newspaper so my hands would be free to rub his ears. After awhile, he asked my wife to go 'feed' him which was a trick he taught us that required one of us to stand over and rub his head a few times before he would eat. As always, he drank some water and went to lie down for his morning nap. A couple of hours later, Suzanne went over to the table and reached down to pet him. And he was gone. We were never more than 10 feet away.
He was eight years old, which is pretty young for a cat, and never sick for a moment. There were no warning signs. A heart attack or an aneurysm, the vet said. He died instantly.
For those of us who lived in his enormous shadow, the loss is deep and painful. But, we are comforted by the knowledge that we were able to share our lives, albeit too briefly, with a true superstar. Like JFK and Marilyn and James Dean, and other special beings who left too soon, he will never age, or suffer, or get old. He will simply live on in our minds and hearts as the perfect friend and a reminder of the fragility and the awesome power of beauty, innocence and pure love.