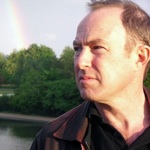 First, a quick introduction and thank you are in order.  My name is James Holt and I am a composer living in New York.  I started a podcast where I interview musicians specializing in performing contemporary music, and I ask them about their experiences with composers.  Simple. I want to thank Sequenza21 for inviting me to come on the site every couple weeks as a recurring feature to tell you about the new episodes.
This week is my interview with Evan Ziporyn…I'm sure that he's someone who needs no introduction to most of the s21 audience, but just in case: Evan is probably best know as the clarinetist in the Bang on a Can All-Stars and as director of Gamelan Galak Tika.  He is also producing a new music festival in Boston called the Beeline Festival which happens to begin today if you're in the area.
The easiest way to listen and subscribe to the podcast is through iTunes.  You can search the iTunes Store for "my ears are open" or click here to go there directly.  If you have any suggestions for musicians you'd like me to interview you can do that here (you'll need a google account though).
I hope you enjoy this project as much as I do.  Coming up on April 19:  Alex Lipowski, percussionist.