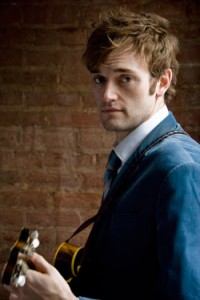 Labor Day 2009 and while John Clare has an airshift, he also has an interview. Chris Thile is relaxing in New York and making coffee, ready to talk shop. Thile jokes, waxes poetic and has a thoughtful answer for the questions. You see, Chris is about to add to the small repertoire of mandolin & orchestra concertos, with his own Ad astra per alas porci. The world premiere performances are September 17, 19, and 20, 2009 with The Colorado Symphony & Jeffrey Kahane.
In the second part of our interview Chris talks about how the piece came about and if others might perform it: Interview Part 2
Thile has been busy as well with his band, The Punch Brothers, and with a duo project with bassist extraordinaire Edgar Meyer. He'll keep up the concerto as well, with six more chances for you to hear it, the Oregon Symphony (September 26, 2009; with Carlos Kalmar), the Alabama Symphony (October 29, 2009; with Justin Brown), the Los Angeles Chamber Orchestra (January 23 and 24, 2010; again with Jeffrey Kahane), the Winston-Salem Symphony (March 13, 14, and 16, 2010; with Robert Moody); the Delaware Symphony (March 19 and 20, 2010; with David Amado);and the Portland Symphony (March 28, 2010; with Scott Terrell).