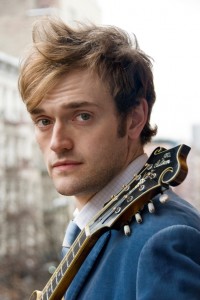 It doesn't seem all that long ago that I heard the world premiere of Blind Leaving the Blind. (Read about it here: S21 Review.) It was quite a night @ Zankel, St. Patrick's Day 2007. Chris Thile has since recorded the work with the Punch Brothers, and made a duo album with Edgar Meyer. Now Thile is about to embark on another journey – a mandolin concerto, Ad astra per alas porci.
This week he plays with The Colorado Symphony (September 17, 19, and 20, 2009; with Jeffrey Kahane), then six more chances to hear it, with the Oregon Symphony (September 26, 2009; with Carlos Kalmar), the Alabama Symphony (October 29, 2009; with Justin Brown), the Los Angeles Chamber Orchestra (January 23 and 24, 2010; again with Jeffrey Kahane), the Winston-Salem Symphony (March 13, 14, and 16, 2010; with Robert Moody); the Delaware Symphony (March 19 and 20, 2010; with David Amado);and the Portland Symphony (March 28, 2010; with Scott Terrell).
I talked with Thile about the new work, enjoy the first part of our discussion, including using amplification or not, and about his Steinbeck title: Interview Part 1
More tomorrow, including how the piece came about and if others might perform it!