Two shout-outs for events that, if only they'd have gotten around to inventing teleportation by now, I'd certainly try to make: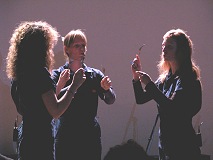 Tuesday evening (27 Oct.) in Princeton's Taplin Auditorium vocalists Sarah Paden, Anne Hege and Lainie Fefferman — otherwise known as Celestial Mechanics — will be presenting five new pieces by composers M.R. Daniel, Matt Marble, Jascha Narveson, and group members Fefferman and Hege themselves. Not your typical vocal trio, CM describes their performance as somewhere between "a chorus of angels and Robert Ashley, body percussion and Laurie Anderson, yoga practice and Wham."  Things kick off at 8PM, it's FREE, and easy to find.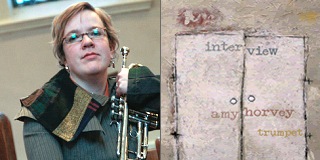 The next evening (28 Oct.), up and  across the border to Montreal, Quebec, our tremendously-talented, trumpet-playing web pal Amy Horvey is celebrating the release of her first CD, Interview, 8:30pm at La Sala Rossa (4848 Boulevard Saint-Laurent). Released by Malasartes Musique, it contains impeccably intense performances of works by Cecilia Arditto, Isak Goldshneider, Anna Höstman, Ryan Purchase and Giacinto Scelsi. Amy will be playing, along with new label-mates Cordâme and Nozen. This disc's been a long time coming, but your ears will tell you it was worth it.