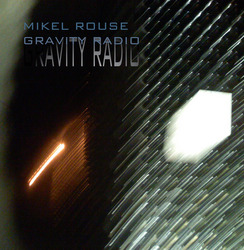 Last Friday I finally made it down to the new DUMBO location of Galapagos Art Space to see the release party/performance of Mikel Rouse's haunting new album Gravity Radio. But let's back up for a moment before we get to Rouse.
DUMBO, for you non-New Yorkers, is one of the myriad New York City neighborhood abbreviations, like SoHo (South of Houston) or Tribeca (triangle below Canal), and it stands for "Down Under the Manhattan Bridge Overpass," which is to say it's in Brooklyn in the area just south of the Manhattan Bridge. It was one of the first places in Brooklyn that artists moved to find illegal loft space in the 70s after they got priced out of lower Manhattan. (The name "DUMBO" is actually an interesting piece of failed culture jamming–residents hoped that by coining such an unappealing name they could stave off developers.)
Galapagos Art Space is a mixed-genre performance space which used to be in Williamsburg, but when the rent in Williamsburg got too high they worked out a deal that has landed them in a converted industrial space in DUMBO which they were able to entirely remodel to fit their needs and aesthetic. In front of the stage, suspended a few inches above a shallow black reflecting pool and connected by bridges, is a set of circular seating pods with room for several small tables and chairs each.  A balcony with additional seating rings the room and provides space for the sound booth.  The whole place is done up in red and black and chrome, set against the bare concrete walls of the building.  It's truly a beautiful space.  Galapagos has a new booker, and I'm told that they are going to be increasing their classical fare–they're already hosting the New Amsterdam Records concert series Archipelago (the next show in that series will be this Friday at 7:30pm with vocal group Roomful of Teeth and percussion/flute duo Due East.)  To give a sense of how diverse the offerings at Galapagos are, in just the next week they will also be presenting Argentinian music by Emilio Teubal & Fernando Otero, punk/cabaret by Barbez, some sort of music/dance extravaganza called "Out Through Her,"  the Main Squeeze accordion orchestra, a production of Hamlet, a burlesque show, Jenny Rocha and her Painted Ladies (which apparently involves music, dance, physical comedy, and theatre), a variety show, and the American Modern Ensemble.  Perhaps "diverse" is an overstatement, but that programming certainly covers a lot of the territory of the hipster art universe, and that was just one week of shows.
That programming potpourri brings us nicely back to Mikel Rouse, whose album Gravity Radio may at first glance seem like a straight-up rock record, but which has deep roots in the classical music and theater traditions as well.  Mikel himself is clearly comfortable in the netherworld between pop and classical, moving effortlessly more into one area and then into the other.  In 1978 his band Tirez Tirez opened for the Talking Heads in Kansas City; in New York in the 80s when postminimalism's highly rhythmically and structurally complex offshoot Totalism was emerging, Rouse was at the center of the movement along with composers like Kyle Gann and Michael Gordon.  In 1984 he wrote a 12-tone piece called Quick Thrust for a rock quartet, which features dizzying polymeters that somehow seem tightly controlled and completely haywire at the same time.  Mikel's rhythmic, harmonic, and melodic instincts all seem grounded in rock, but he tends to deploy those materials much more like a classical composer than like a popular song writer.
Take "Black Cracker," which is track three on Gravity Radio.  First, almost all popular music in 4/4 time has four-bar phrases, but for Rouse's lyric that fourth bar is unnecessary and he leaves it out.  The whole song is perfectly seamless, and yet because every cycle is one bar shorter than you expect the whole thing feels constantly off-kilter.  Then part way through he cuts the tempo of the descending hook "When I'm bored I can't be bored with you/When I'm blown I can't be blown in two" by half. After establishing the half-tempo version he brings back the full-tempo version over top of it, making the chorus into a prolation canon.  That half-speed hook then becomes background for the next verse.  Later an ascending scale adds yet another counterpoint to the mixture, and the whole thing fits together like a puzzle.
The danger of emphasizing these elements of complexity, of course, is the risk of sending the message that complexity is inherently virtuous, or that the complexity in this music somehow "elevates" it above other less complex popular music.  Writing in Gramophone, Ken Smith once said that Rouse's music is evidence that "pop music can sustain serious interest with the right person at the helm"–the implication that most pop music can't "sustain serious interest" is the kind of thing that tells me the writer doesn't know what he's talking about.  The complexity in Gravity Radio is interesting and enjoyable, and connects the music to the classical tradition, but ultimately the music has to stand or fall on its surface qualities, and in this case it stands tall.  I'll take a well-crafted Britney Spears tune over a tortured post-serialist brain-dump by a composer who cares more about combinatoriality than musicality any day of the week, and while I haven't asked him I suspect Mikel Rouse would feel the same way.
If it sounds like I'm avoiding telling you what Gravity Radio is, exactly, the truth is I'm not sure what to call it.  It's part song-cycle, part concept album, part theater piece.   It's a series of thematically and musically related, country-inflected, infectiously memorable rock songs of ambiguous but evocative lyrical content, connected by interludes of spoken recitation of news headlines and fragments of lyrics from the songs delivered in an astonishing newscaster-kunst voice by Veanne Cox.  It has something to do with superconductors and gravity waves.  It's abstract and catchy and deep.  It's 52 minutes and 14 seconds long.
The beauty of the internet is that I can just tell you to go here to listen to portions of it and read Mikel Rouse's description and the lyrics.
The performance at Galapagos was a stripped down version with just guitar,  string quartet (members of ACME), Mikel singing, Veanne reciting, and some background sound effects.   It worked well even in that format, and the absence of drums and other rock elements showcased how deeply integrated the string arrangements are into the composition.  The band fought a little against the acoustics of the space, which had a tendency to muddy up the sound, but overall the performance was tight and intense.  Rouse modestly sat among the ensemble rather than standing front and center like a rock frontman.  The headlines in the news recitations were updated with recent news, as they will be for each leg of the international tour that begins in January.
Gravity Radio ends with one last set of news reports from which I draw one final observation: Almost any statement is improved by the addition of the phrase "Chuck Norris wins."