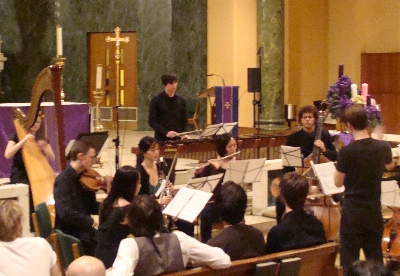 In a city like New York, with so many first-rate musicians moving to town every year to try to "make it," promising new chamber ensembles spring up all the time, and I think this is a great thing.  One of 2009's most promising new groups was the Syzygy New Music Collective, which gave their debut concert at St. Anthony of Padua church, in the West Village, on December 4th.
Founded by Jessica Salzinski and Danielle Schwob, two composers who recently graduated from NYU, Syzygy is dedicating itself to the presentation of music by young and emerging composers, and indeed most of the music on the concert was by composers I hadn't heard of.  After the concert I overheard them encouraging some composers from the audience to send them scores and recordings, and their website includes detailed information on sending submissions.
The concert was very enjoyable.  All of the performances were solid, and I liked most of the pieces.  The reverberant acoustics of the church served some pieces better than others, but that's a pretty common problem. The acoustics were especially well suited for Angelica Negron's meditative "Technicolor" for harp and electronics.  Conrad Winslow's chilled-out (or did it only seem that way because of the space?) "Slippery Music" did a remarkably good job of integration live acoustic instruments and an electronic tape part.  Noam Feingold's violin/cello duet "A Knife in the Water" meandered attractively across its modernist landscape.  Jessica Salzinski's impressive "Piano Sonata No. 1" was a bit muddied by the acoustics, but it came across well anyway.  The usually sweet sound of flute, harp, and vibraphone was somehow given a satisfyingly dark or even slightly ominous edge in Danielle Schwob's "Shiver."  And Syzygy cunningly programmed a lovely Nico Muhly piece at the end of the concert.
I say "cunningly" because they attracted an impressively large audience for a first ever performance by a new-music group.  Part of that may have been the appeal of the Muhly name.  But I don't want to diminish the other strategies they employed.  First, to fund the concert they raised money through kickstarter.  They then leveraged all of the other social media tools at their disposal, and it all worked.  This marketing savvy is in some ways the most promising thing about the group.  It's one thing to put together a good ensemble and program and deliver a strong concert, but to stand out requires a business savvy that evidence suggests Syzygy posesses.
Syzygy's next performance will be April 22nd, at the Nabi Gallery on West 25th street.