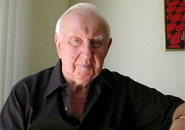 Benjamin Lees died of heart failure on Monday, May 31 at North Shore Long Island Jewish Hospital in Glen Cove, New York at the age of 86.
Lees's work rose to prominence in 1954 when the NBC Orchestra performed his Profile for Orchestra in a national broadcast. He was later awarded Guggenheim and Fulbright fellowships, allowing him to live in Europe for seven years and present his works throughout the continent. Upon his return to the United States in 1962, Lees was appointed Professor of Composition at the Peabody Institute in Baltimore, where he served until 1964. He later taught at both the Manhattan School of Music and the Juilliard School of Music. In 1972, Lees was commissioned by the Philadelphia Orchestra to write the music to the text of E.B. White's "The Trumpet of the Swans." In 1985, Lees was commissioned by the Dallas Symphony Orchestra to write a piece that would commemorate the 40th anniversary of the end of the Holocaust, Symphony No. 4 'Memorial Candles'. Symphony No. 5, commemorating the arrival of Swedish immigrants to Delaware in the 17th century, was recorded, along with his Symphony No. 2 and Symphony No. 3, for Albany Records and earned him a 2004 GRAMMY nomination. A recording of his Violin Concerto by Elmar Oliveira on Artek Records was nominated for a GRAMMY in 2009. His music has been performed around the world over the years at venues such as Lincoln Center in New York, the Kennedy Center in Washington D.C., and in Monaco at a performance celebrating the 500th anniversary of the kingdom. In 2009 Naxos Records released a new recording of his String Quartets Nos. 1, 5 and 6, performed by the Cypress String Quartet.
Benjamin Lees was born January 8, 1924 in Harbin, Manchuria to Russian parents. He and his family immigrated to San Francisco the following year, then moved to Los Angeles in 1939. At age 15, Lees began studying piano harmony and theory, and began composing with his teacher, Marguerite Bitter. After serving in the army during World War II, Lees entered the University of Southern California in Los Angeles in 1945. Lees continued his composition studies with George Antheil until 1954.
When asked about his approach to composition, he was quoted as saying, "There are two kinds of composers. One is the intellectual and the other is visceral. I fall into the latter category. If my stomach doesn't tighten at an idea, then it's not the right idea."
Lees was commissioned to write pieces through his early 80's and continued writing until his recent death. He is survived by his daughter, Jan Rexon, and his wife, Leatrice Lees.