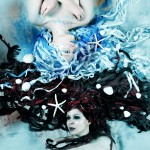 We covered some great shows coming up this month in the Bay Area and NYC, now it's Seattle's turn. For the next two weekends (June 4-6 & 11-13) On the Boards will be hosting the 2010 NW New Works Festival which features "emerging and established artists from a variety of performance disciplines" and "highlights artists who are pushing themselves to take on new challenges." Looking over the list of showcases it seems that the festival is primarily focused on new theater and dance, but there are a few music related sets in there if you look hard. The Mint Collective, Josephine's Echopraxia, and Corrie Befort all appear to be cross-disciplinary/music/multimedia/collaborative productions.
On the Boards is also bringing back "PODFEST" as part of the festival.  From June 4-13, On the Boards will roll out 6 short videos (video podcasts featuring performance made for film), one each Friday, Saturday and Sunday of the festival. They can be viewed at ontheboards.org and in the lobbies prior to each festival showcase.
All the information about the festival, including youtube videos for all the artists, can be found here.