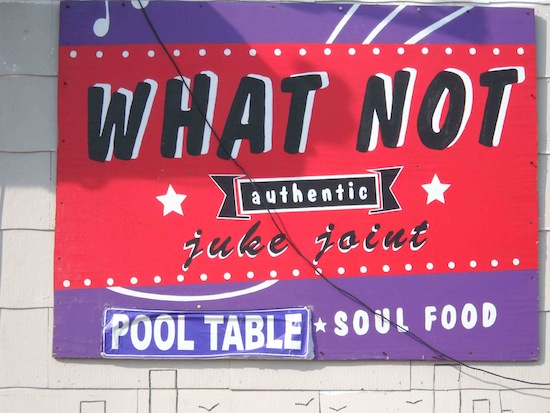 What Not With Skyline (photo by Chris Becker)
As a recent transplant to Houston, I am just beginning to take in the breadth and variety of the city's cultural scene, especially its music. Each article will focus on contemporary composition, improvised idioms, and performances that integrate theater, visual arts, and/or dance. Inevitably, my love for rock, folk, blues, jazz, country, zydeco, and all out noise will creep into future writing. The goal is to expand people's perceptions (including my own) about how and where one can find innovative music.
Last Month (August) I visited Kaboom Books for the first time and in addition to buying a few great used books including a copy of Ralph Ellison's Shadow and Act with its wonderful essay about Charlie Christian, I met and spoke at length with one of the owners about Kaboom's former home New Orleans. For this summer's White Linen Night, Houston sound artist Doren Bernard turned Kaboom Books into a sound installation with a mysterious piece of entirely comprised of sounds recorded within the store. As I moved through the aisles of Kaboom that night, Doren's piece seemed to sit at the edges of my peripheral hearing creating an effect similar to seeing a ghost and then – after blinking your eyes – seeing nothing but the space where your spectre had made its presence known.
A friend from New York asked me for a little more detail regarding my comparisons in last month's Houston Mixtape #3: The Epicenter Of Noise between his city and Houston and each town's respective "noise" level. He rightly pointed out that Houston, being more spread out with little or no zoning regulations, results in a more horizontal (as opposed to vertical) cityscape thereby diffusing and spreading out the noise of the city.
Horizontal also means you get to see wide-open skies and gigantic cloud formations from an uncluttered 360-degree perspective.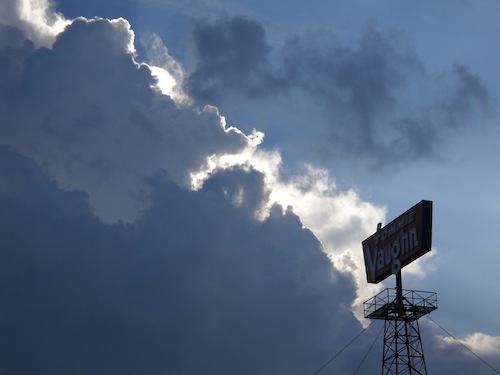 Clouds Over Tommie Vaughn (photo by Chris Becker)
Maybe this is a stretch, but I do wonder if Houston's big skies and flat lands inspired the artist Mark Rothko directly or indirectly while creating the fourteen paintings contained in the Rothko Chapel. I do know Rothko worked closely with Philip Johnson and Houston architects Howard Barnstone and Eugene Aubry in designing the sunlit chapel that would contain his fourteen paintings, and there's no question in my mind that sunlight played a role in the planning and construction of the chapel. On a recent visit to the chapel (which is located in Houston's Museum District), I was struck at how dramatically Rothko's paintings transform in appearance as the light from the chapel skylight shifts in relation to cloud cover and Houston's crazy weather patterns. These changes occur almost minute-to-minute, and the paintings transcend their frames, colors, and textures.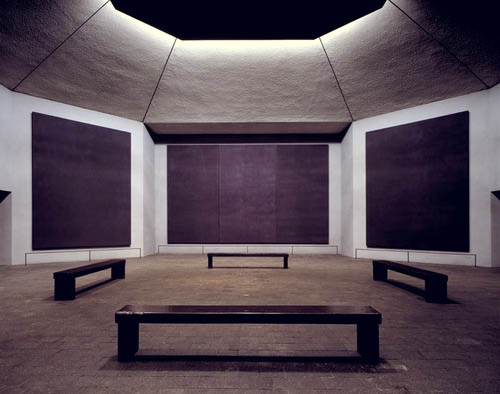 It makes absolute sense then that composer Morton Feldman was asked by John and Dominique de Menil to compose a tribute to Rothko. In his essay regarding the resulting work Rothko Chapel , Feldman writes that his choice of instruments was affected by the space of the chapel as well as by Rothko's paintings and that he wanted the music to "permeate the whole octagonal-shaped room" just as the paintings seem to continue beyond the borders of their canvases. It's a ways ahead, but on February 11, 2011, the Houston Chamber Choir and Da Camera of Houston will present Feldman's Rothko Chapel as well as works by John Cage and Erik Satie in the Rothko Chapel to celebrate its 40th anniversary.
On September 21st, 7:30 pm at the Co-Cathedral of the Sacred Heart, you can hear a performance of Thomas Tallis' 40 part motet Spem in Alium by the Houston Chamber Choir. This is another piece of music that permeates "the whole" of any space it is heard.